The Petersburg Chamber of Commerce's 34th annual salmon derby opens Friday, May 22 with over 100 prizes for lucky anglers landing a king salmon during the four-day event. Fishing starts at 7 this morning and is open through 5 p.m. Monday. Event organizers were able to tag two fish this week, good for cash prizes if they're caught again during the derby.


Start your engines! Petersburg's annual fishing competition is on this weekend, offering cash prizes for the three largest kings, 7000 dollars for first prize, 35-hundred for second and 25-hundred for third. There are also two tagged fish, caught beforehand and worth 10,000 dollars and five thousand dollars if someone lands them again over the weekend.
Initially, organizers of the event were only able to land one king for tagging on Wednesday. However, derby committee chair Ron Loesch said volunteers went out again on Thursday morning and landed a second fish, tagged for the 5,000 dollar prize. "And it turns out to be about a 28-30 pound fish caught out by Frederick Point," Loesch said, adding, "and the 10,000 dollar tagged fish also was from Frederick Point and that is about a 15 pound fish."
Loesch noted that the information on the second fish didn't make the printing deadline for this week's newspaper but both tagged fish are in play. "At deadline yesterday for the Pilot, we did not have obviously that information so we announced there would be no $5,000 fish but thanks to the extra efforts of the volunteers we did get one tagged early Thursday morning," he said.
In addition to cash, the derby awards 125 other prizes ranging from outboards and chainsaws to crushed rock, gift certificates, clothing, vouchers, flights and flight seeing tours, airline miles, fishing gear and spa treatments. There are also 17 hidden weight prizes and a few special prizes, including one in memory of Jerry Wollen, awarding $1,000 to the angler with the highest total accumulated weight of salmon on the weekend.
Derby tickets are on sale and anglers have to remember before fishing to get them validated at a few locations starting at 7 a.m. Friday. Kids age six through 16 do need to have a derby ticket even though a state fishing license isn't required for that age.
The bag and possession limit for non residents is two kings over 28 inches. Non residents also have an annual limit of six.
Meanwhile, the daily bag limit for residents is three kings over 28 inches. For residents the possession limit is the same as bag limit, three fish, except in District 8, a big portion of the derby area, where the possession limit is 6.In addition residents have no annual limit. People fishing from a commercial boat have to remember to cut the dorsal fin before bringing it to shore.
State sport fishing regulations currently allow two rods per person in district 8 but people fishing anywhere in the derby are only allowed to fish one rod. And this derby remains for rods only, no down riggers allowed.
Loesch said organizers are looking forward to a lot of participation. "The run is hopefully coming in. Fishing's been good at the south end. We hope those fish will gradually be moving north but we're expecting a good derby."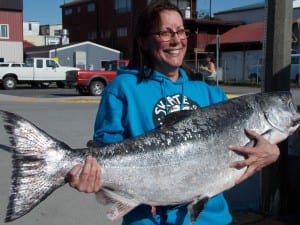 The winner last year was Karen Malcom with a 46.4 pounder. The prize ceremony is Thursday at 7 p.m. at the ANB Hall.
KFSK will provide derby updates throughout the weekend