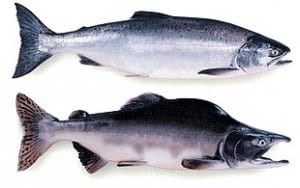 In Southeast, seining for pink salmon is what fills some fishermen's wallets. The season runs from late June to the first part of September peaking in August. As Angela Denning reports from Petersburg, so far the run is weaker than expected.

Generally speaking the northern part of Southeast is seeing more pink salmon while the southern Southeast districts haven't seen them really hit yet. At least that's what managers are hoping is the case.
Scott Walker helps manage the southern districts of Southeast, Districts 1 through 4. He's the Area Management Biologist for the Alaska Department of Fish and Game.
"We're to the point now where it's just about going to show us what it is. We're all hoping for a big push of fish that's late," Walker said. "We just really don't know. So, we still have 80 percent or so that we catch in August. The first three weeks in August are really when the bulk of the salmon come through."
During an opening last week about 230 boats were fishing for humpbacks throughout the Southeast region.
Petersburg's District 10 is located near the middle of the Southeast and about 20 boats fished the opening. They brought in 190,000 pinks which is just below the average. Each boat averaged about 9,500 fish.
Kevin Clark is the Assistant Area Management Biologist for the state's office in Petersburg.
"There's no indication that we're having a huge year but we're also not having a bad year either," said Clark. "Right now what we're looking at is okay catches with good escapement numbers so far. We'd expect them to keep building."
Clark said managers are keeping their eyes on District 7, about halfway between Wrangell and Ketchikan. That district hasn't seen as many fish as managers expected, at least in the Northern portion of the district.
"Anan escapement, which is the driver for that Southern District 7, has not been coming in as strong as we would like," said Clark. "It's been slow and intermittent so we're watching that. That's the reason we haven't had any more openings in the upper District 7."
About 10 to 15 percent of the overall pink salmon run has passed through Southeast so it's still early in the season. But so far the catches have been below average, according to Walker.
"It started out relatively slow," said Walker. "It's picked up a little bit but doesn't seem to be able to, at least so far, match what our preseason estimate was."
The preseason estimate for Southeast was for a strong run of between 37 and 79 million pink salmon.
Pinks run on a two year cycle so this year's fish are the offspring from the record setting returns of 2013. That year saw a catch of 95 million pink salmon. But Clark says just because a few years ago there were a lot of fish out there doesn't mean this year will be the same.
"I expected it to be average maybe slightly above average because if record runs begat record runs you'd have a record run all the time," he said.
The last purse seine opener was Sunday, July 26. The next one is Thursday, July 30.