Imagine meeting your father for the first time when you reached 49 years old. Imagine you just found out about your biological dad just days after saying goodbye to your adoptive father. That happened this spring for a woman from Provo, Utah who traveled to Petersburg, Alaska this month to meet her biological father.


67-year-old Jim Rodgers had an itinerant early life, growing up with a father in the Air Force. He spent some time in California and later moved to Utah, where he lived 20 years. About four years ago he moved again, this time north to Petersburg, Alaska. One of his brothers had spent some time here and Rodgers also brought a sister north with him. He was visiting that sister at Petersburg's elderly housing facility in the spring when he received a surprising phone call.
"Well I was with my sister Cindy at the Manor and we were watching TV and probably betting golf, you know and my brother called from California and he said that he had just had his DNA done at the request of my other sister who lives in New Mexico and she's into ancestry and all that kind of thing and he said we had a hit," Rodgers explained.
The DNA match for Rodger's brother was essentially a first cousin relationship for him, which pointed to a direct offspring for one of the other men in the family. "And he said well Jim we know it wasn't Dad. It wasn't Curt, he was only eight and we know it wasn't me and brother Jim that leaves you. And I asked him well how old would I have been? And he said well probably 17. I said boy, oh boy," Rodgers said with a laugh. "I went through all my memories and things like that and I just could not place, not really, not very well anyhow. So I took it with a grain of salt you know and anyhow one thing led to another and it became more and more evident that yeah I had a daughter."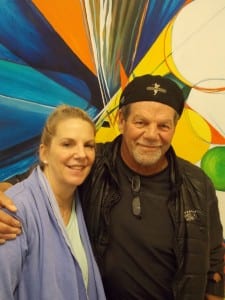 His daughter it turns out is 49-year-old Kara Heiner of Provo, Utah. She has learned she was conceived in California, born and Salt Lake City and also moved around a lot growing up, living in Oregon, California and Europe with the parents who adopted her.
Heiner had her DNA information on two different online sites and got the same message for a first cousin match. She says knew she was adopted growing up and was always wondering about her other parents. "When I first got a picture I first got these chills and this confirmation and I just started to cry. And was like, that's my Dad. I could see it. And I had always wanted to see who I came from."
Heiner doesn't know who her biological mother is and says she doesn't care to know at this point. She says she's just taking in the experience of meeting her Dad. They spent a week in July in Petersburg getting to know each other. Heiner has two sons and a daughter along with a grand-daughter. So Rodgers, who used to think he did not have any kids, not only found out he was a father, but also a grandfather and great-grandfather all at once. Besides the similarities in appearance, the two say they've noticed other similarities.
"Uh yeah they are and they're subtle like the way we tap our feet. My toes are always wiggling. Little physical gestures which I also have in common with my siblings," Rodgers said.
"He does this little dance thing and I'm like oh my gosh I do that all the time," Heiner agreed. "Even how we walk in the morning and in the night it's like this penguin walk kindof cause of me being sore."
The story gets more surprising though and it comes down to the timing of this life changing discovery.
"Four years I don't know if I would have been able to handle it," Rodgers said. "You know I was just in a different place but I'm in a place now where I really open and receptive to what's happening and what's going to go on. So the timing was amazing. And I'll let her tell you this but her adoptive father died just days before she found out about me."
Heiner's adoptive father Steve, a former assistant basketball coach at the University of Oregon and professor at Brigham Young University passed away in April. She says she was with him the day before he died. "And the last words he said to me actually were 'I love you too.' A tear went down his cheek. But I said to him be sure to come tell me goodbye was one thing and then the other thing was if you could just throw me a bone with the adoption thing. So we buried him on the 16th and then on April 19th I get the news about my Dad, Jim. It was amazing. I know my Dad had everything to do with that. Oh so he knew who your father was? No, no, no. So when he got up to heaven or whatever you call it, he arranged this."
We're not done yet though. The two have figured out that for they've been a lot closer to coming across each other. For years Rodgers lived in Salt Lake City while Heiner was in Provo, less than an hour away.
"We were in Salt Lake all the time because my grandparents were up there and lots of friends and family so we were in Salt Lake all the time and in that area in fact," Heiner said. "Where he used to live my daughter lives maybe four blocks away from that. And she worked in this little gelato shop which was right around the corner."
That means the father and daughter may passed by each other on the street without knowing. Heiner said she had a feeling that her father did not know she existed. This year's meeting has been seamless, the two said, like they've known each other their whole lives.
"It's just been beyond comfortable, just enjoyable. And from may part it feels like there's a piece of me that I didn't know was missing and here it is, here is," Rodgers said.
"I'm really religious but also really spiritual and the way all of this has unfolded it's so magical. I feel like I'm Dorothy in the Wizard of Oz only it's not a dream and instead of the red slippers I traded 'em for these rubber boots that everybody wears around here and to quote Dorothy when she's saying there's no place like home I agree but now I feel like Petersburg is also my home," Heiner said.
Heiner thinks the tears will come after she leaves Petersburg and leaves behind the whirlwind visit with her new found Dad. Rodgers said he's not yet ready to interject himself into his daughter's world and into that of her kids and granddaughter but will take this new family connection slowly. Both said their story together is not yet finished and they plan to be part of each other's lives. Heiner said they've already had their first distress call.
"I called him one night and I was really upset," she explained. "I was trying not to be too upset on the phone and I was like, Dad, this is Kara I'm OK just call me when you can. He couldn't get to the service so he had to go I don't know to a parking lot he said. And he called me. I was better by the time I talked to him and I'm like, Oh by the way welcome to being a Dad, what it's really like."