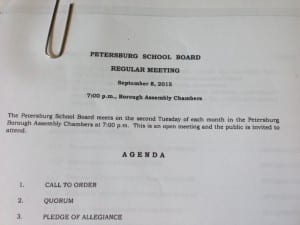 It's the start of the school year in Petersburg and with it comes the first Petersburg School Board meeting of the season. The school board has a regular meeting tonight at 7 p.m. in assembly chambers.
At the meeting, the school board will continue to address district policies that reflect what the state legislature requires now. They include changes to the language in district policies for things like transportation, employment of retired teachers, high school graduation requirements, and alcohol and drugs. This will be the board's first reading for this group of policy changes. The board's policy committee has been going through recommendations from the Association of Alaska School Boards. Most of the changes are minor edits to language and don't change the content of the policies. The board will hold public hearings on them before voting.
Also at the meeting, the board will consider changing the dates of the regional basketball tournament from what was scheduled when the school calendar was created. The district has since moved to a 2A activities region. Superintendent Erica Kludt-Painter is recommending the board approve the revised dates for parent-teacher conferences in the spring to accommodate the new calendar.
The board will consider contracting with Bear Electric to install an exhaust hood in the Stedman Elementary school cafeteria for about $18,500.
Also on the agenda, the board is scheduled to discuss updates to their list of goals as a board.
Board members will also be hearing administrative reports from Superintendent Kludt-Painter, Maintenance Director, Daniel Tate, and the Director of Finance, Karen Quitslund.
The school board meeting starts at 7 p.m. in borough assembly chambers and KFSK will broadcast the meeting live.