Alaska's Department of Transportation says clearing state roadways from ice and snow may take longer than usual this winter because of state budget cuts. In the Petersburg area, that announcement could impact drivers on the southern end of Mitkof Highway, including passengers on a new ferry service planning to make stops on southern Mitkof through the winter months.


Statewide the DOT has had to absorb a budget cut of 34 million dollars, a 12 and half percent reduction to the department's operating budget from the year before. DOT spokesman Jeremy Woodrow said plowing and de-icing roads may take longer to get to if the region is hit with a big winter storm. "One of the reasons is is due to budget constraints we can no longer can pay overtime to employees so they have to work within the hours now that are provided for their schedules," Woodrow said.
The DOT in September publicized a new online map identifying state roads and their level of priority for maintenance work. Woodrow said the department has always had that priority system but the new map will help the public understand when maintenance work could happen. "So the general public can go look at this map and be able to see which roads are which priorities, to give them a better idea of when they may have their road plowed near them," he explained. "So we have five levels. Priority one is the top priority. Those roads receive the most service and it goes all the way down to priority level five. Level five roads do not get any winter service at all."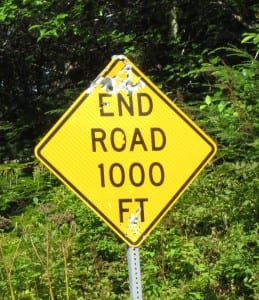 There's one level five stretch of road near Petersburg, on Mitkof Highway south of Blind Slough and the Crystal Lake Hatchery. Woodrow said that roadway has been plowed in the past when DOT maintenance staff could get to it. "It always has been a level five though the staff gets to it when time is allowed and time is available. And understanding there is a new ferry to South Mitkof. That's something the department's going to monitor and see if that should be changed to a level four."
That new ferry is the Rainforest Islander, an independent ferry that started service between Coffman Cove, Wrangell and South Mitkof this summer. The converted landing craft is run by the Coffman Cove based North End Ferry Authority. It has four-day a week scheduled stops at Banana Point boat ramp through the winter. The authority's general manager Kent Miller said no snow removal on the southern end of Mitkof Highway would prevent that ferry service from happening. He writes in an email that the ferry authority will request the state plow that stretch of road on the days that the boat is in service Sunday, Tuesday, Wednesday and Friday. Since the start of service drivers and passengers have to find their own way to Banana Point, 25 miles south of downtown Petersburg. However the ferry authority still plans to start van service from Petersburg to Banana Point this fall on those days. Miller also reports the new service has one standing reservation at Banana Point on Sundays and Tuesdays and has had traffic getting on and off the new ferry most days it has been operating.
Meanwhile, the rest of Mitkof Highway from the hatchery to downtown Petersburg is a priority level two road, which can take up to 36 hours to clear after a heavy winter storm.
"There is no priority level one in Petersburg which mean the two becomes a level one," said the DOT's Jeremy Woodrow. "Because of the number of staff positions we have in Petersburg the times to clear the entire highway may take a little longer anyways just because like I said earlier we can't pay overtime. So it may take them longer during a heavy winter storm. But they will get to it. It's important, people should remember drive to the conditions of the road and that the posted speed limit is for ideal conditions. During heavy winter weather definitely you want to slow down."
Two other portions of state road, the Scow Bay loop and the road to Papke's Landing are listed as level four, which can take up to 96 hours to clear, according to the state website.
Along with the southern end of Mitkof Highway, the D-O-T has level five priority roads, those scheduled for no service, near Yakutat, Sitka, Juneau, Haines, Wrangell and Ketchikan. The DOT downgraded North Douglas highway near Juneau from a level two to a level three. That could impact people trying to drive to Eaglecrest ski area.