None of the results have changed in Petersburg's borough election. The borough assembly canvassed the final ballots Thursday morning.


Mayor Mark Jensen and the borough assembly tallied up nine absentee ballots Thursday morning, adding to the totals for the various candidates but not changing any results.
The winners of two seats on the harbor board are fisherman Bob Martin and business owner John Murgas. That was the only contested race on Petersburg's ballot. Murgas ended up beating former harbor master Jim Stromdahl for that second advisory board seat by 24 votes.
The financial disclosure ballot measure passed 313 to 94, a margin of more than three to one. That vote will mean the borough manager, assembly, school board and planning commission members will no longer have to file income information with the Alaska Public Offices Commission, or APOC.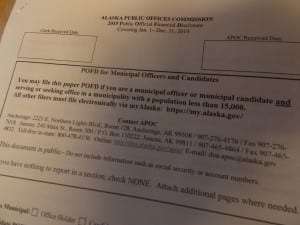 Jensen and assembly members joked about putting some more questions on the ballot to boost turnout as they waited for the final tally of votes at Thursday's meeting.
"Anything to get more people to turn out. Well maybe now that the APOC thing's not in effect anymore we'll have more people apply for some of these positions."
The turnout was just under 16 percent, well below last year's 39 percent, and the lowest turnout for a regular municipal in over a decade.
Eric Castro and Nancy Strand were elected to the borough assembly. Strand starts up her second term, while Castro is a newcomer to the assembly. Strand helped canvass the results Thursday morning. Castro was not at the meeting and will be sworn in at a later date.
Cheryl File and Jay Lister were re-elected to three year terms on the school board and Mara Lutomski was elected to a one-year term.
Marlene Cushing will continue on the hospital board for another three years, while Kris Thynes won a two-year term. That board also has two seats that drew no interest.
Gina Meucci won a seat on the public safety board, which also still has a vacant seat.
Dave Kensinger and Otis Marsh won three year terms on the planning commission while Richard Burke and Tom Stearns won two-year terms. The planning commission has two remaining seats to be filled.
The library board will have a full roster. Chelsea Trembly won a three year term and write in candidate Mary Koppes also was elected for three years.
There are still five seats that need to be filled and that can be done by assembly appointment.