Petersburg's school board Tuesday advanced a new policy on memorials in the local school district. As proposed, existing memorials to students who have died will be taken down and returned to families. In the future, photos, plaques and other recognition would be temporary and not a permanent display in the school buildings.


The board policy is a new one and it starts out by saying "In recognition that schools are designed primarily to support learning, school sites should not serve as the main venue for the memorializing of students or staff."
The policy sets out guidelines for activities and temporary displays to honor someone who has died.
"So there's been a lot of research done about memorials going into schools and whether it's appropriate to be there long term or not," explained board member Mara Lutomski during a KFSK call in show this month. "And so we have decided that there will be a two-week period of time where memorials can go up for the students or a teacher maybe, someone in the district that may have passed and it really needs to be age appropriate and it'll be under the direct supervision of the superintendent or their designee," she said.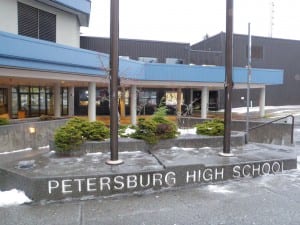 The policy also address how the district will allow memorial activities for a student or staff member who has committed suicide. Memorials already on display in the district will be returned to family members. Plaques recognizing adults who have served their country or the community can remain up with the superintendent's approval.
During that radio call in show superintendent Erica Kludt-Painter noted the district's research on the issue dated back several years and she thought it is a good idea to address the topic when the schools are not in the midst of dealing with a tragedy. "We've tried to be as objective and sensitive to the topic because it is a very personal topic," Kludt-Painter said. "And this is a community that does value its history that way and that's in the community itself. I mean there are lots of different things around town that are named. There are lots of things in the community, people do value that."
During Tuesday's board meeting local resident Shannon Peeler spoke on behalf of the memorial to her nephew Jacob Madsen, a high school student and basketball player killed in a gun accident in 2008. That display is up in the high school gym where Madsen's number was retired. "I don't understand why the memorial has to be looked at in such negative ways," Peeler told the board. "It's a tribute to the life of a great kid. Why can't it be said that way? Jake was a great kid, whose teammates and coaches wanted to honor his memory in a memorial to him. They made it from a place in their hearts." Peeler thought existing memorials should be grand-fathered in and not removed from the campus.
Another community member Bryan Lynch said he understood the need for a memorial policy. "That being said it seems that up to this point, the situation particularly with Jake Madsen's memorial has been handled with unfortunately it seems like a lack of sensitivity, particularly when it was summarily removed a couple of years ago," Lynch said. "With the passage of this policy I hope if and when the current memorials are removed it will be handled with a greater sensitivity to the families."
School board members explained the need for the new policy language. Board vice president Megan Litster is on the district's policy committee and helped draft the new language. "Again I just wanna reiterate this is one that we've done lots of research on," Litster explained. "As the policy committee, we've consulted with mental health professionals, we've consulted with our attorney. I think that input is great."
Likewise, board member Lutomski explained the her viewpoint on the proposed language. "I feel bad if the family members feel that we're being disrespecting any of the previous memorials that have been placed within our school," Lutomski said. "We did have conversations with family members regarding what we may or may not do with the memorials and how our policy would be shaped. I know that everyone on the board, you know, it's an uncomfortable situation. We're not trying to be heartless. We are just trying to protect current and future students."
The board unanimously passed the first reading of the memorials policy and it requires one more approval before it takes effect.
The board also voted 5-0 to approve the first reading of another new policy on naming school facilities. That proposed language would have people make naming requests to the superintendent. The district would form a committee to consider that request and the final decision would be up to the school board.
Under the proposed policy, facilities already named after someone, like the Wright Auditorium or Rae C. Stedman Elementary school will be keeping those names. That policy also needs one more approval before taking effect.