Residents at Mountain View Manor will be getting an improved cross walk to the Hammer and Wikan grocery store.
Public Works director Karl Hagerman read from the borough manager's report at Tuesday's assembly meeting. He said public works and Mountain View Manor are working to improve safety for residents walking across Howkan Street to that store.
"Solar powered LED crosswalk signs with push-button actuators have been ordered and will dramatically improve motorist awareness of pedestrians in the crosswalk once they are installed," he said.
Hagerman reported a recent close call there between a motorist and a resident of Mountain View Manor trying to cross the street.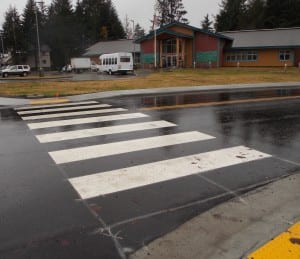 Meanwhile, down the hill on Haugen Drive, a new crosswalk has been painted at Second Street and the borough wants to remind drivers on Haugen to watch for pedestrians crossing there. Hagerman said next spring a flashing sign will also be installed at that location to operate during school hours.
Staff also reported that the new section of float for Middle Harbor has been delivered and installed. That replaces a float damaged by the cruise ship Safari Explorer in September of last year.
In other news, the assembly approved the first reading of an ordinance that would rezone some borough land along Haugen Drive next to the Hammer and Wikan shopping center. That land is zoned as open space but would be changed to commercial land.
"This is a section of land on the airport side of the entrance to the Hammer and Wikan store up towards the airport," Mayor Mark Jensen explained. "And it's right along the highway and wanna rezone it to commercial and it sounds like there's a business interested in possibly obtaining one of those pieces of land. That will be in the future." That zoning change for nearly two and quarter acres was approved in first reading and needs two more approvals before taking effect.
Petersburg Police Chief Kelly Swihart said final plans and a cost estimate for the renovation of the police station and municipal building should be done sometime next month. The borough is paying MRV Architects to design the project, which will fix problems in the police station and jail portion of the over-50-year-old structure. The project will also redo the municipal offices in the building.
"The design team has come up with what they're calling a rough set of 95 percent documents," Swihart told the assembly Tuesday. "The project is about 95 percent designed. Most systems determined and overall engineering and design has been completed."
Swihart said the architect hopes to meet with the assembly in November and will provide an updated cost estimate. Early estimates put the project price tag near 10 million dollars and the borough has secured about half of that in state grant funding.
Also Tuesday, the assembly voted to change evening meeting times to 6 p.m. instead of 7 p.m.
Several assembly members wanted to have both meetings each month at noon, but others thought that made it difficult for working people to listen in or attend.
Bob Lynn thought noon meetings could work during the summertime. "I do think at least in the winter time one of the meetings has to be in the evening sometime," he said. "I'm not arguing when I'm just saying I really do believe it needs to be in the evening. In the summertime I think that's a different deal. I think they could all be at noon at least six months or seven months of the year."
The vote was 6-0 to change the time to 6 p.m. That doesn't impact November's meetings, however, both are already scheduled for noon.
Newly elected assembly Eric Castro was not at the meeting and still has to be sworn in to his assembly seat.