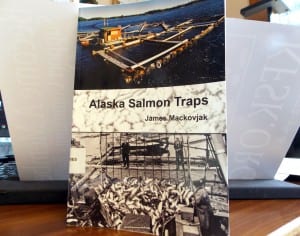 Traps for catching salmon may sound pretty innocent but at one time in history salmon traps in Alaska were highly controversial. Large commercial ones were owned by Lower 48 corporations and caught millions of fish a season. Fishermen using more traditional methods were frustrated with the competition.
The traps were actually a main push for the Alaska statehood in 1959. They were outlawed that year by the federal government.
Author James Mackovjak (pronounced Muh-SKOH-vee-ack) looks back at this history in a book called, "Alaska Salmon Traps". He's in Petersburg for a presentation and book signing Tuesday. He spoke with Angela Denning and says there were hundreds of traps being used early in the century.
James Mackovjak, author of "Alaska Salmon Traps" is in Petersburg Oct. 27. At 6:30 p.m. at the public library he will give a slideshow and talk on his book which will be followed by an open house at the Clausen Museum with a book signing, discussion and viewing of artifacts.
Mackovjak lives in Gustavus. He is also the author of other historical books on Alaska's early settlers, logging and freighting.