The Petersburg borough's finances received a clean bill of health from the municipality's auditor this week.
Michelle Drew of the firm B-D-O presented the annual audit to the borough assembly Monday night. "We did issue an unmodified opinion," Drew said. "And that's basically a clean audit report which is kind of the highest report card you can get from an external auditor."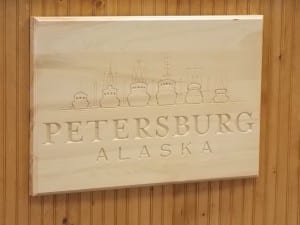 The audit covered the fiscal year that ended in June. Drew told the assembly that Petersburg's enterprise funds, with the exception of assisted living, are covering the cost of operations and funding some of the cost of replacing equipment and other assets. Those enterprise funds include the harbor departments along with local utilities for water, waste water and electrical service.
In the general fund, Petersburg saw sales tax and property tax revenue both top 3.1 million dollars. The first six months of the borough's new tobacco tax brought in 56,000 dollars.
Total general fund revenue was at 11.5 million dollars, including a large payment from the state into the public employee retirement system. The borough's general fund balance dropped by half a million dollars at the end of the fiscal year, largely due the assembly setting aside money for renovating the police station, jail and municipal building.
In other business, the assembly briefly discussed the possibility for local laws regulating marijuana sales and production in the borough.
"I'm wondering if we should start writing an ordinance about the marijuana stuff before the state usurps whatever little power we may still have left," said assembly member Nancy Strand. She is also member of Petersburg's marijuana regulation advisory committee, which has met several times since it was formed last March. That committee was tasked with drafting an ordinance for where and how pot businesses could operate locally. Assembly member and committee chair Jeigh Staton Gregor said he'd be reporting back to the assembly on that committee's work next month. The state's Marijuana Control Board this year adopted regulations covering the issuance of licenses for businesses and expects to start issuing licenses for the marijuana industry as soon this upcoming May.
Also Monday, the assembly also voted to renew a contract with the borough's Juneau lobbyist Ray Matiashowski. The borough pays him 3500 dollars a month or 42,000 dollars a year to lobby for Petersburg's interests in the state capital.