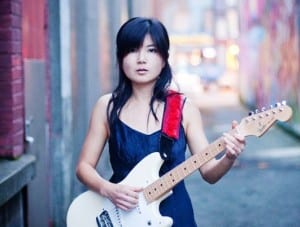 Singer songwriter, Lijie (pronounced Lee-jay) is performing Thursday night in Petersburg at the Wright Auditorium. The local arts council is sponsoring the event.

The Seattle Weekly Blog writes that Lijie's "substantial instrumental and vocal chops" helped create the 2011 pop album, "The Music Maker" which steers clear of the usual Seattle indie, folk and garage genres. Lijie likes to call it "Ai-Pop" (pronounced Eye-pop).
"Because 'Ai' in Chinese means love and most of the songs that I write about somehow relate back to love in some form," Lijie said.
Lijie grew up in China until she was five when her family moved to the United States. She's a classically trained pianist starting at the age of 8. Later in college she learned the guitar.
She visits China now and again and feels a connection to both her American home and her Chinese roots.
"What's always interesting about going back to China is I feel like–when the language that you think in is the language that comes most naturally to you or to anyone, right? And whenever I come back from China my thoughts get really confused because it's hard to figure out if I should think in Chinese or in English. So there's like this weird wiring issue in my brain," Lijie said.
But she is very much an American and cites several Western musical influences: Fionna Apple, the Beatles, John Mayer, Jimi Hendrix, and Coldplay.
As an adult, Lijie's played around the world in many big cities from street corners to colleges and clubs. She calls music her passion. On her website she writes, "I love music. Music is everywhere, and in everything. It is the soundtrack of our lives."
Lijie has never been to Alaska and Petersburg will be her only stop before she heads down to L.A to do more song writing. She said the local show will be a blend of her first and second albums, Roam (2004) and The Music Maker (2011) and newer songs she's working on for an EP.
"So the people will definitely get a mix of old and new, songs that they've never heard before," Lijie said. "And also to just pay homage to artists that I love and to music that has inspired me so some cover songs that people will recognize. I'm really really looking forward to it, I've never been to Alaska before so I would love to see as many people as possible and to meet people and to get their feedback and to connect with people through music."
The show will start at 7 p.m. at the Wright Auditorium.
Tickets are $15 at the door or $12 in advance at Lee's Clothing.