Petersburg High School's basketball teams are back at home after a busy Christmas break. Both the Vikings and Lady Vikings will be hosting conference rivals Wrangell in homecoming games this weekend after playing against larger 3A and 4A schools from Alaska, Washington and Oregon.
The boys team took sixth place at the Clarke Cochrane Christmas Classic in Ketchikan last week. The Vikings had one win and two losses. Their losses came against teams from Scappoose, Oregon and Auburn Washington, while they beat Hutchison. The Vikings also lost to Ketchikan Kayhi Kings before the tournament.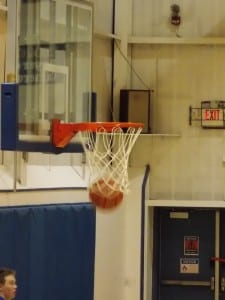 Coach Rick Brock hopes the competition was good for his team. "Obviously you would like to win at least one more game," he said. "I thought we had a good chance against Scappoose. But boy, the level of competition was very difficult. I mean they were good teams that we played against. The Auburn team I believe is rated fourth in 3A in the state of Washington and the Scappoose team we played they were state champs at the 4A level last year and then of course Ketchikan is rated right now one of the top two or three teams in 4A in our state. So, fantastic competition for us. And you know when you play really good teams you hope it makes you better and we'll see in the next couple of weeks if it did."
In individual honors, Jordan Lapeyrie the free throw competition, Alan McKay was a hot shot competition winner and Stewart Conn was elected to the all-tournament team. The Vikings got a chance to see some Southeast 2A rivals play at the tournament, with Metlakatla also losing to Scappoose in the consolation bracket.
"They're big, athletic," Brock said of Metlakatla. "Got a couple of freshmen that are pretty good. I still think from top to bottom, they're bigger than us and I guess we'll find out here in two weeks after we play Wrangell and Metlakatla where we really stand. Wrangell went up north and did really well in a 1A, 2A Christmas tournament. So going into the season I felt those were the top two teams you know coming back from last year in our conference. Those are who we play the next two weekends and we'll know where we're at." First up it's the Wrangell Wolves here for Petersburg's homecoming Friday and Saturday.
The girls team came in second place at the Ketchikan tournament with two wins and one loss, losing in the championship game to the host Kayhi Kings.
Girls coach Dino (DEE-no) Brock was happy with the three games. "Oh yes I thought that we played very well for three games," he said. "Learned a lot about ourselves, what were capable of I think. The intensity that we need to play at, I think that was a big thing for us, playing against two 4A varsity teams that went out and pressed us, showed us where we are conditioning wise, showed us the level we are capable of playing at and where we need to go."
Petersburg had wins over the a Ketchikan JV team along with a team from Palmer. Ruby Brock was named to the all-tournament team and Kylie Wallace was named tournament MVP for the second year in a row. Wallace also won the hot shot competition. In addition, Wallace topped 1000 points for her career during the opening game against the Ketchikan JV. Brock can't remember anyone else for the girls team who has scored 1000 points during his time as coach.
"I think the idea of Kylie scoring a thousand points says a lot about our team and her teammates as well," he said. "The idea of us working together and it's not something that somebody does by themselves, it really is a team effort to get to that level."
The girls team is also home against Wrangell this weekend. They've already played the Wolves this year, beating them 44-17 back in December.
Here's the homecoming schedule:
On Friday the JV boys play at 2:45, JV girls at 4:30, the varsity boys play at 6:15 and the girls varsity play at 8 p.m. On Saturday, the JV girls play first at 2 p.m., followed by the JV boys at 3:45. The varsity girls play at 5:30 and the varsity boys at 7:45. Homecoming festivities will be that night around 7:15. You can hear the varsity games broadcast live on KFSK.