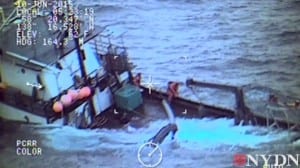 U.S. Coast Guard and their families stationed in Petersburg were honored Friday night at a packed Sons of Norway Hall. Attendees shared food and listened to accounts of Coast Guard rescues from years past.


More than 25 active duty officers and crew of the Cutters Anacapa and Elderberry call Petersburg home.
Lt. Peter Vermeer, Commanding Officer of the Anacapa, spoke at the event, thanking Petersburg for the recognition.
"Having come from Washington D.C. before I showed up here I was surrounded by government servants. I was surrounded by other federal workers," Vermeer said. "So, it seemed unusual to me that I might deserve some sort of special praise or that we might deserve some sort of special praise but after reflection and discussion with many of the citizens of Petersburg I've come to understand that the neighborly respect for the coast guard in Petersburg is born out of missions that have been accomplished across Alaska, past and present."
One of those past rescues was in February of 1994 when the crab boat crew on the 58-foot Angela Marie was saved in Cross Sound. A photo of the boat covered a big screen while the crowd listened to an emotional mayday call.
"Mayday, mayday, mayday!" yells someone through static.
"We hear you," the Coast Guard answered, "repeat your position". Then you hear crew member Pete Erickson again begging for help.
"We're going down!" he said. Somebody help us please!"
You hear the Coast Guard again, then nothing, again the Coast Guard, and again nothing. The boat sank within four minutes, which Skipper Charley Christensen called a terrifying experience. He said the boat was sinking stern first so the crew climbed out through the wheel house or skylight.
"And got our survival suits that were frozen just about solid because it was blowing 70 northerly, gusting 100 and wind chill factor maybe 50 below," Christensen said. "So, it was quite cold."
It was night time. The five crew members ripped the suits out of their cases and managed to get them on except for one person who went overboard with it under his arm. Meanwhile, Christensen tried to stay above the water's surface.
"At that time the Angela Marie was right underneath me," Christensen said. "I got tangled up in the rigging in those big swells and was being pulled under water, I'm gonna go down with the boat but it was just enough buoyancy in the boat that when I went down and came up again with that survival suit on there was just enough to get untangled from whatever lines or rigging I was tangled in."
The crew spent over an hour in the water. Still, Christensen said a lot of lucky things happened after the boat went under. The survival raft popped up right beside the only crew member who wasn't wearing a suit. A Coast Guard helicopter from Sitka found them in the storm, even Christensen who was floating away on a piece of decking from the boat. Then during the rescue, the helicopter broke a part that prevented it from hovering so it had to land back in Sitka like an airplane, which is did safely.
The Coast Guard appreciation event was sponsored by the Petersburg Chamber of Commerce. Director John Havrilek donned a red neoprene survival suit at the podium.
"It's just one amazing story after another," Havrilek said. "It's just hard to imagine what these people have done. And thank god they're here with us and thank you all for coming. We expected about a hundred and we have about twice that many."
Attendees watched a six minute video of the Coast Guard rescuing the crew off the 80-foot Kupreanof last summer near Cape Fairweather. The crew of the tender boat was on their way from Petersburg to Bristol Bay.
Skipper Steve Berry talked back and forth to the Coast Guard in the helicopter.
"I've got one man and a female that can't swim," Berry told them.
"Water was coming up to the backdoor," Berry explained to the audience. "I told everybody, okay, put on your survival suits. This is it."
Like Christensen, Berry recounted lucky scenarios during the unfortunate experience.
"That life raft blew right around the bow, went right by Palmer who couldn't swim, he was the one who jumped in there. He's also the strongest man on the boat and it drifted back. So, he's in the raft and he picked us all up like drowning kittens as we went by," Berry said.
Berry implored people in the audience to try on their survival suits and keep their gear in check on their boats. Although he said he wished he didn't have to be up there telling his story, he knows he was just one of a long list of people rescued by the Guard.
"I wake up every morning and I have to realize the boat went down but my crew didn't," Berry said.
Coast Guard Cutter Anacapa is an Island-Class patrol boat. It helps provide search and rescue capabilities in the Southeast as well as conduct ports and waterways security, national defense and law enforcement. The Elderberry is a buoy tender. Its crew helps mark the Inside Passage, maintaining buoys and lights.
"It's incredibly rewarding to be publicly appreciated like this and I would address my crew and let them know that it is not like this everywhere," Vermeer said. "So, enjoy it while it lasts. Petersburg is a very special place."
It was the first Coast Guard appreciation put on by the Petersburg community. Mayor Mark Jensen said they should consider making it an annual event.