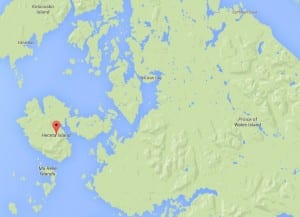 A search has been suspended for a missing Prince of Wales Island man. 63-year-old James Gray of Naukati, was overdue from a fishing trip last Wednesday, March 2. Gray had departed Naukati intending to camp on Camp Island for one night. Friends of Gray located his boat and his dog on the north end of Heceta Island, between Port Alice and Camp Island. When they couldn't find Gray they contacted authorities.
On Friday, Alaska State Troopers began searching the island. When nothing showed up they called in the U.S. Coast Guard which used a MH-60 Jayhawk helicopter aircrew to search from the air and the Cutter Chandeleur to search by sea. The U.S. Forest Service Law Enforcement helped in the search also, as did two good Samaritans.
After searching for the man Friday and Saturday the Coast Guard suspended its search.
Lt. Stacey Tate, a search and rescue mission coordinator at Sector Juneau said, "The decision to suspend a search is never an easy one to make and is done with great care and deliberation."
Anyone with information about the missing man is encouraged to call the Coast Guard or the Alaska State Troopers.