The Petersburg borough has approved an initial selection of land it hopes to acquire from the state, part of a land entitlement the municipality receives for borough formation. Borough officials are still hoping future legislation could increase the size of that land transfer.


One incentive for creating the new borough is the transfer of 10 percent of the state land within Petersburg's boundary, and specifically state land that has not been already designated for some other use like the Southeast state forest, or land grants to the university or mental health trust. For Petersburg, that amount is around 13-hundred acres. Local officials have approached state legislators about upping that number.
At a recent meeting of the municipal land selection committee, the borough's community and economic development director Liz Cabrera explained Petersburg's representatives did not encourage pursuit of land legislation this session. "Both Senator Stedman and Representative Kreiss Tompkins, this is about the increased land entitlement legislation, felt it was better not to introduce legislation this session just because of what's going on with budget issues, etc. and thought that our time would be better spent for the borough to work with DNR to identify what we would select under a larger entitlement."
Requests for the transfer of land will go into Alaska's Department of Natural Resources. Cabrera said it would be better if the borough worked with DNR officials in anticipation of a larger selection through legislation in the future. She recommended proceeding with a request for the initial 13-hundred acres. "In meetings the mayor had and members of the assembly had with DNR, DNR recommended that we go ahead and make an initial selection just to get the process going, because it is such a long multi-year process that they would like is to get started on it and I think the understanding was that that doesn't necessarily prejudice us with the legislation."
Increasing the land request could take years and might be rolled into some future lands bill that addressed the needs of other municipalities. Assembly member Bob Lynn was with other local officials who met with state legislators on the issue this winter. "All the representatives told us we would never get a bill through this year and in that original letter that came to the borough it specifically says you have to make your selections within a period of time, I think it's two years, Liz, one year, I think it's one," Lynn said. "At any rate, we're behind, they're telling us we were out of sync, they could deny us. So that's also giving us the impetus to at least make a move on it of some sort."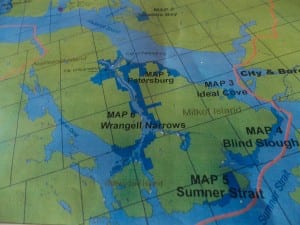 The committee has already identified lands that are top priority in the area. They've focused on economic development land, for instance several rock pits and waterfront parcels near existing boat ramps or other facilities. That lists totals one thousand three hundred and 21 acres. The lands are at Cape Fanshaw and Thomas Bay on the mainland, on southern Mitkof Island near little Blind Slough, and around Woodpecker Cove, in Kupreanof Island's Duncan Canal and at Frederick Point on Mitkof Island.
If the borough is successful in increasing the land entitlement, committee members have talked about selecting lands that could become part of a mitigation lands bank. Those could be used to help private land owners comply with wetlands mitigation requirements that can make it difficult to develop smaller parcels. The committee voted to recommend the initial list of selections and the borough assembly voted to send those choices on to DNR to begin the long transfer process.