Petersburg High School's basketball teams open up the state tournament Thursday in Anchorage as the number one and number two seeds in the girls and boys 2A brackets. Both the Vikings and Lady Vikings took the Southeast 2A crown last week at Mt. Edgecumbe High School in Sitka.


Both the Vikings and Lady Vikings were number one seeds at the regional tournament, giving them an opening round bye. Both beat Craig on Thursday and Metlakatla on Friday to win the region title.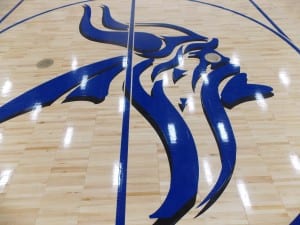 The Lady Vikings beat the Misschiefs 46-19 on Friday, thanks to a strong third quarter that saw Petersburg score 19 points and hold Metlakatla to just seven. Kylie Wallace nearly outscored Metlakatla by herself, putting in 18 points while Ruby Brock had four three pointers, good for 12 points.
The girls also beat Ketchikan 47-24 in a crossover game with the 4A champs. Kayhi only played their starters sporadically in that game and girls Coach Dino Brock said some of Petersburg's younger players also got into the game. Overall Brock was very happy with the regional tournament.
"I thought we came out all three games completely focused," Brock said. "The basketball moved well. Defensively we played so hard. It was exactly what you would've wanted I think, especially defensively out of us. People were focused. Everybody's working hard. We played well as a team. Just a great weekend."
The three wins improve Petersburg's record to 23-1. The Lady Vikings had five all-conference players at the regional tournament, Wallace, Brock, Adanna Kvernvik, Emma Chase and Chandler Strickland. All four seniors Wallace, Brock, Kvernvik and Josie Prus and were named to the all-academic team. Kvernvik and Strickland were also good sport award winners.
The Lady Vikings are the number one seed at the 2A state tournament. Brock calls that a nice honor for the hard work put in by the team this year and thinks his team is ready. "Yeah I think we're in pretty good shape physically," he said. "That was one of the big things with the cross over game, just like please make sure nobody, everybody comes out of it healthy. I think our attitude is good, mentally we're ready. We just had a shooting practice, got a sweat going today, no contact nothing. I think we're ready."
Petersburg opens up against the Dillingham Thursday at 3:30. The Craig Lady Panthers wound up with the second Southeast state tournament berth and opens up against Point Hope Thursday evening at 5:15.
The PHS boys team took the regional title beating Metlakatla Friday 54-49. Stewart Conn had 25 points, Blaine Volk and Kjell Witstock both scored seven, while Jordan Lapeyrie and Mark Niediffer each scored five.
Boys coach Rick Brock thought strong defensive play by Witstock and Alan McCay helped make a difference in that championship game. "Kjell and Alan both had two extremely good players to guard throughout the whole ball game and were able to hold them in check," he said. "So really, their offensive threat came from Danny Marsden who's one of the best players in the state. But we held him to two points in the second and third quarter with a combination of different people. So I really think defensively we were solid throughout most of the ball game. The down the stretch Danny made some huge plays but we had a big enough lead and made our free throws."
On the offensive side, Brock said Conn had a huge weekend scoring over 20 points in both games but he also said scoring from the rest of the lineup was critical. He also thinks strong leadership from guards Witstock and McCay also made a difference.
McCay, Conn and Wolf Brooks were named to the all-conference team. McCay and Lapeyrie won good sports awards. All four seniors, Witstock, Lapeyrie, Ethan Bryner and Ben Johnson made the all-academic team. Brock notes that Witstock won the free throw contest making 24 of 25 shots and following in the footsteps of his mom Bridget who also won that competition in during her high school career.
Brock thinks the success of the teams are due to a long basketball tradition in this town. "I think it's great for our community. You look at our middle school programs with Matt Pawuk for the boys specifically and Michele Parker and Bridget Witstock for the girls right now. And you can go all the way back to the Randrups running the Parks and Rec program for years and Dennis Sperl doing the same thing. There's a lot of tradition and pride in the community. A lot of people have put a lot of time and effort over the years to make our program one of the better ones in the state. So I'm happy for the kids, I'm also happy for the community to be able to celebrate this with us."
The boys team is seeded second at the state tournament and opens up against Bristol Bay Thursday at 1:30. Meanwhile Wrangell beat Metlakatla for the other Southeast berth at state and the Wolves open up against the top seed, Unalaska Thursday at 9 p.m.
One other interesting note about this year's 2A state tournament, it will be a real family affair. Rick Brock's two daughters Ruby and Katie will be playing for the Lady Vikings, the two brother Rick and Dino will be coaching for Petersburg, their sister coaches the Cordova girls team and her son who plays for the Cordova boys team.