Keep an eye out this year around Petersburg, you might notice some new public garbage cans appearing in prominent places. The trash bins feature historic salmon and seafood canning labels and they're part of a larger effort to display some of the history of the industry that built this town.


A small group of donors got a sneak peak at the dozen seafood garbage cans over the weekend at the Glo Wollen's warehouse Saturday. Wollen, Petersburg's harbormaster, paid for one of the new bins and also helped round up others sponsors.
"Thank you everybody for contributing and your patience with us," Wollen said, adding, "It's pretty exciting."

Kodiak fishermen Bruce Schactler got the idea from coastal communities in Washington state and Oregon and contacted Peterburg resident Karen Hofstad about using some of her collection of seafood labels. Hofstad owns something like 300 salmon and seafood cans she's collected and likely over a thousand labels. She thought Petersburg should get in on Kodiak's order but knew she needed help.
"I thought yikes I don't even know if anybody will wanna to buy 'em I'm gonna own 10 garbage cans here," Hofstad laughed. "But it was so easy, people just jumped right in with the idea, it's just something fun. And I've been collecting for 50 years but a lot of people, the younger people don't have any idea, even cannery company people don't have any idea of the history that's here."
Petersburg ended up ordering a dozen seafood label garbage cans. Hofstad explained the labels chosen have connections to the Petersburg canning industry. "The canneries, there's very few labels that say Petersburg, because most of the processors they sold their pack and then whoever bought 'em put their label on, so it could be something from Illinois or whatever," she explained. "But we found, almost all of these have Petersburg on them. They're not the prettiest but they still say Petersburg."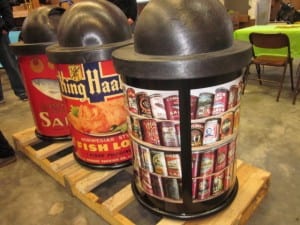 One can carries the label of a Norwegian style fish loaf made from salmon and other seafood. That's a favorite of Wollen's. "Growing up, fish loaf was all my brother and I would ever eat, ever," Wollen said. "So when I turned 18 and went off to college Karen had that label and had it framed for me and I took it to college and hung it in my dorm room."
They're not all salmon cans chosen either. One is a shrimp can from Alaska Glacier Seafoods, the largest shrimp producer on the west coast during the 20s and 30s, and run by the Ohmer family for decades in Petersburg. It's an obvious favorite for Gloria Ohmer Koenigs.
"I recognize a lot of cans," Ohmer Koenigs said. "I'm just impressed that the project got off the ground and came to completion."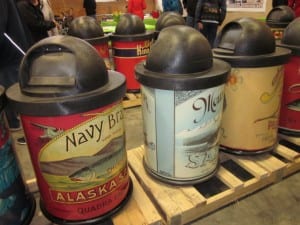 Another receptacle has the label of Icicle salt codfish.
"The one that says the codfish was actually the company, as I understand, that Bob Thorstenson bought the Icicle logo from originally," said Icicle Seafoods Petersburg plant manager Patrick Wilson.
"I think it's a terrific community effort here to document the canneries in town, the general area and I think it's long overdue," Wilson said. "It's nice to preserve the canning history here and share it with visitors and even people in town aren't familiar with what's really happened here over the years."
The seafood garbage cans are part of a bigger effort to display history of the industry around town. Icicle has been working to create a small a park on land the company owns next to the laundromat. Wilson said that spot will be dedicated to all people who have worked in seafood processing here throughout the years.
"We're going to build a shelter there and put these signs up, have a couple planters, fix it up there so it's a nice little park and there's an occasional place where people can read about the history of canning here in town and see a lot of cool photographs and stuff of the past and present," Wilson explained. He said the company is hoping to have the park all completed possibly by the Fourth of July.
In the works are signs for a walking tour with information about the many companies and people who have processed the local catch. The Petersburg Pilot's Ola Richards helped compile and print out the proofs of the historic displays. "I think people are happy, so that's the most important," Richards said. "I was having fun with that project so I'm looking forward for more of this kind of project."
Trident plant manager Dave Ohmer thinks the project will highlight the cannery workers and the important role they play in the seafood industry in town. "And it's entertaining," Ohmer said. "You stop in front of one of these boards, you could spend a half hour or more just reading and following along, I mean it's just cool. The beauty, the artwork that's on these labels, it's beyond belief. All so different and all so unique, fantastic."
The park and the walking tour is the second phase of the improvement work. The garbage cans will be going in first this spring. The borough's public works department will be installing the new cans at 12 select locations around town. However Wollen explained to the group it may be a purposely slow release. "What Kodiak is doing which I think is a neat idea but we'll ask you is they are putting out a couple at a time and it's creating quite a buzz," she said. "It's almost like an easter egg hunt."
The hope is to have all the cans out by Petersburg's Little Norway Festival this May. Most will be in the downtown area with one by the ferry terminal and another by the airport.