One business on main street in Petersburg has started the process of applying for a retail marijuana license with the state. The owner doesn't expect to be operating until 2017 at the earliest.


Susie Burrell has run the Fisherman's Net Café and Gift Shop on Petersburg's main street for the past three years. The café's closed up for the afternoon, after serving breakfast and lunch. Burrell also sells clothing and other items here. For the past year or so those other items have included smoking pipes, bongs and medicinal oil products.
"Well when we found out my business falls on the one block that falls outside the 500 foot range, 'cause I wasn't going to until we found that out," Burrell explained. "It would be kindof a no-brainer if you didn't go for it, you know what I mean. So that's kindof how it all came about."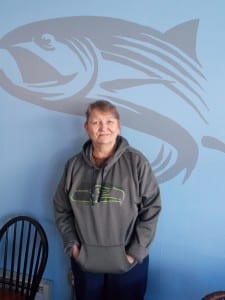 Under new state regulations, pot businesses have to be 500 feet from schools, rec centers, churches and jails, leaving only a few sites in Petersburg's downtown as a possibility.

Burrell is among hundreds in Alaska who have started the license application process with the state but she's the first in the Petersburg area.
Other than hers, the closest applications in the area are on Prince of Wales Island and Wrangell. The state's Alcohol and Marijuana Control office has a
map on its website
with the applications for licenses that are under consideration.
Burrell plans to operate a retail marijuana store at the back of her restaurant. Her next step in the process is a requirement to post a notice in her window and in the local newspaper announcing her intention to open a retail pot business. She wants to make clear that the store will be 40 feet off of main street and not in the front section of her restaurant.
"People are going to misunderstand, they're gonna see that sign out there on that window, they're gonna think I'm talking about right here and right facing on main street and it's not," she said. "It's that space that's going to be in the alley way. The entry is going to be in the alley, which I think is just totally fitting."
Burrell is calling her business "The 420," a reference to the time of day pot smokers like to light up and a name she thinks won't be obvious and in-the-face of people who don't want a pot business in town. She says she's already had push back from local residents. "I did from the beginning when I started the smoke shop," Burrell said. "I've lost business in the restaurant part of it, you know even though I've tried to keep it over there and there's signs over there. I've never sold to anybody under 21."
Burrell said she wants to wall off the back part of her business from the restaurant and will look into having a walled-in outdoor space if she's allowed to have people smoke on the site. However she doesn't plan to open up her new business right away for several reasons. For one, the state doesn't plan to start approving retail pot licenses until September. Businesses also have to pay a 5,000-dollar-a-year license fee Burrell doesn't expect to have a source of tested marijuana that quickly.
"I actually have already decided because of the longevity and when the growers actually get to start growing, there's probably not going to be anything available until the end of the year," she explained. "There's no use turning in the 5,000 dollars. So, I'll turn in my paperwork in January 1st 2017."
Burrell sees the new industry as a great opportunity and likens it to gold mining because it's a gamble and maybe a chance to get rich. "Honestly, when I started the Fisherman's Net Café I did it because I had to. I'd had back surgery, nobody'd hire me. So I did this. I'm almost 60 now. I have no retirement whatsoever. I've always tried to work to take care of myself and not have anybody else be in that situation, so. Maybe this is my retirement. Maybe I'll make enough to be able to not worry about it so much."
Burrell thinks the bulk of her business will be from tourists visiting Petersburg. She doesn't think her legal sales will have any impact on illegal underground sales in the community.
There are still many things that have to happen before there is a pot shop in downtown Petersburg. The borough will be considering a local ordinance for marijuana businesses and state law makers will be considering legislation that would impact the industry – one bill includes a necessary change to allow the state to do nationwide background checks on license applicants, something required in the new state regulations.