Petersburg's school board Tuesday, May 10 will be voting on new course offerings in the high school, a signing incentive for classified staff and a new contract for district support personnel.
The board has its regular monthly meeting tonight and a full agenda. Petersburg High School could be offering a couple new courses next year if the board approves. One would be a "Shop lite" course that would cover basic automotive maintenance, computer design, metalwork and woodworking. Another potential new offering would be a social studies elective on the Vietnam War era.
The board will also vote on adopting new social studies curriculum and hiring a new math teacher for the high school.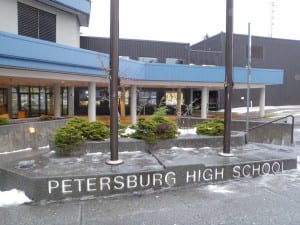 In other decisions, the board will consider a one-time, three percent signing incentive to be paid to classified staff before the end of this school year. Classified staff are secretaries, teachers aides, custodians and food service workers. The board will also be voting on a new three-year contract for those district support personnel.
Finance director Karen Quitslund will give an overview of a spring revision to the district's budget. The board also will vote on disposal of some library books and filing cabinets. Board members will also review changes to three policies and vote on taking part in high school graduation May 31st.
The board meets at 7 p.m. Tuesday in the Viking Library at Petersburg High School. The board also plans to hold a student recognition session before the meeting at 6:15 in the high school commons. Also KFSK news will speak with school board members about tonights meeting during a live call-in show, coming up today at 12:30 on Campus Connection.