A road on Kupreanof Island between Kake and Petersburg is now on hold because of Alaska's budget crisis.
Among his announcements of budget vetoes Wednesday morning, Governor Bill Walker said the state would be pausing eight highway road projects around Alaska. The projects are state-funded and they include a proposed road link across the northern side of Kupreanof Island.
"That's another 250 million dollars that we're pausing those until we have a fiscal plan, until we have a fiscal plan that we know where we're gonna be," Walker said in a press conference Wednesday. "Companies in situations that we are are trying to conserve cash. That's what we're trying to do in that particular move. Again, infrastructure projects, road projects, it's certainly put a lot of Alaskans to work, needs to be done. We put a hold on that until we have a fiscal plan with a balanced budget."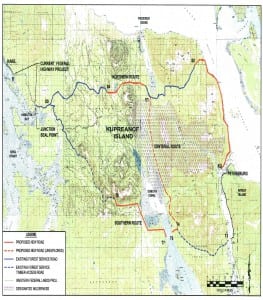 The Alaska Department of Transportation this spring advertised for companies to do survey work on the proposed route across Kupreanof Island. DOT spokesman Jeremy Woodrow says that request for proposals will be cancelled and the survey contract will not be awarded. He says the 38 million dollars in remaining state funding appropriated for the road link will remain with the project and will not be spent elsewhere.
The other state road projects put on hold Wednesday are in Fairbanks, the Mat-Su Valley and Anchorage.
House Finance co-chair and Fairbanks republican representative Steve Thompson criticized Walker's decision Wednesday, saying, "We don't have a lot of roads in Alaska, so when you cut eight statewide road construction projects totaling $250 million, you're cutting a lot of jobs."
The governor also announced he was shutting down two large projects, the Knik Arm Bridge and a dam planned for the Susitna River.