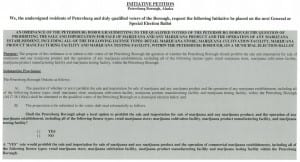 Some Petersburg residents are circulating a petition looking to get another marijuana vote in front of local voters. The initiative would ask voters if they want to make local marijuana sales illegal. Angela Denning reports:

The proposed ballot language would ask voters if the Petersburg borough should prohibit marijuana sales, any marijuana product, and the operation of any marijuana establishment for growing, selling or testing.
The borough assembly last month voted not to put such an issue on the October 4 municipal ballot. So, some residents are petitioning for it. A petition application was filed with the borough on June 27. Since then petitioners have been trying to gather 104 signatures. Angie Davis is one of them.
"I have two high school kids," Davis said. "I don't think we should be desensitizing our children to drugs. I just think that they get enough stuff shoved down their throat these days that it's just one less thing that they need to be desensitized to."
In the 2014 statewide election, 52 percent of Alaska voters supported the regulated sale of marijuana. Voters in the Petersburg-Kupreanof area had stronger support for legalizing marijuana with 58 percent of voters favoring it.
But Davis thinks not everyone was voting for what it would mean locally.
"When I was presented with voting it was, 'Do you want marijuana legal? Yes or no?' I voted 'No' but even though it passed I don't think a lot of people knew what it entailed as in a retail marijuana shop, a testing facility, a cultivation plant, those are all things I think a lot of us didn't know," she said.
After the statewide legalization, the Petersburg borough has been working to create a marijuana ordinance detailing local rules. So far, the borough would regulate pot businesses about the same way as the existing liquor law.
Similar to alcohol laws in the state, an "opt out" vote is allowed for marijuana. Communities can vote to prohibit the sale or importation of marijuana or any pot product. That's what the petition organizers are after.
Petitioners each have their own reasons why they want to keep pot sales out of town. Grant Trask thinks it's a health risk and would lead to more drug use. In a letter in the local newspaper he wrote, "today's marijuana user is very likely to become a meth or heroin user."
But all petitioners agree that they want a public vote on the issue.
"The whole point of the petition is so the community can vote," said Davis. "So it's left to the community. If it comes back and it's all no votes, great, then the community voted. We're not going to continue to keep pushing this. Just a lot of people feel like we want to have a voice of what's going to go on in the community."
Two businesses in the Petersburg borough are seeking a marijuana license from the state. Gary Morgan has applied for a state cultivation license located near Papkes Landing, about 10 miles south of town. And Susie Burrell wants to sell marijuana from the back of her main street restaurant.
Petition organizers say they expect to turn in the needed 104 signatures by Friday. If the petition is certified it would force a special election because it misses the April deadline to get it on the regular municipal election in October. However, the borough assembly could choose to create a similar ordinance for the regular election. But this is all contingent on the petition meeting its requirements.