Voters have just one contested race this October in Petersburg when it comes to candidates for local office.
Tuesday, August 23 was the filing deadline for candidates for 19 available seats on the borough assembly and other elected boards and commissions. 15 people filed the paperwork in time to run for one of those seats and the other positions remain vacant and could be filled later by appointment.
Incumbent Mayor Mark Jensen has filed for re-election to his seat but he has no challengers.
There is a race for borough assembly again this year. Former city council member Marc Martinsen is running for one of the two open assembly seats, along with incumbents Jeigh Stanton Gregor and Kurt Wohlhueter. Martinsen also ran for the assembly in 2014 saying he wanted to give voters a choice.
School board incumbent Sandra Stevens has filed to keep her seat. However, another incumbent, Mara Lutomski did not put her name in for the election so there will be one vacancy on the school board.
There will be three empty seats on the hospital board. Incumbent Darlene Whitethorn was the only person seeking one of the four spots there.
It looks like the planning and zoning commission will have a full roster. Three people have filed for the three vacant seats, Otis Marsh, Yancy Nilsen and Tor Benson.
Incumbents Bob Dolan and Glen Reid Jr are seeking seats on the harbor board leaving no vacant seats there.
Barb Fish and Alec McMurren have both filed to continue on the library board, giving that board a full roster. Jerod Cook and Devren Bennett are running for a three year term on the public safety board but there's still a vacant seat on that advisory group as well.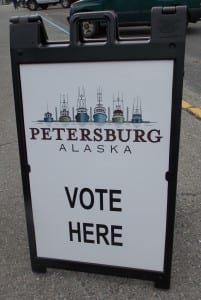 Of course, voters will decide one hotly contested ballot question. That's whether to prohibit the sale and importation of marijuana in the borough.
The last day to register to vote in the local election is September 4th. Forms are available at the borough clerk's office or on the state division of election's website. Absentee voting at the clerks office starts up September 14 and runs until the day before the election.