Alaska's Lieutenant Governor Byron Mallott was the keynote speaker at this week's annual meeting of Southeast Conference in Petersburg.
During his speech Wednesday, September 21, Mallott addressed climate change and fisheries, this year's failed pink salmon runs, mining concerns on the transboundary rivers in Southeast Alaska, the Commercial Fisheries Entry Commission and the Alaska Marine Highway System.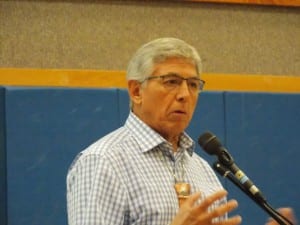 Joe Viechnicki spoke with Mallott Tuesday about some of those topics, along with logging of Alaska Mental Health Trust Land near Petersburg. First he spoke on the latest on an agreement between Alaska and British Columbia over mining projects near the transboundary rivers.


Mallot says the target is the end of this month or early next month for signing that statement of cooperation on mining with British Columbia.