Guitarist Chris Proctor makes his second visit to Petersburg this week, almost exactly five years after his first concert here.
Proctor plays solo, acoustic six and 12-string guitar. He's put out 10 CDs of his own songs and arrangements of more well-known melodies.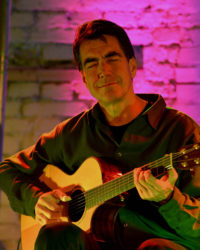 The national fingerstyle guitar champion has been touring through Alaska in August and September, including a five day guitar camp in Wasilla. Petersburg is his last stop in the 49th state before he heads south to appearances in California, Arizona and Utah. Proctor taught a class here Monday night and performs tonight at the Sons of Norway Hall. Joe Viechnicki spoke with him about his visit.


Chris Proctor performs Tuesday, September 27 at 7 p.m. at the Sons of Norway Hall. Tickets are on sale at the door.