Audiences in Petersburg's Wright Auditorium might not notice the changes right away, but there's some new equipment that's been installed making it easier and safer to show movies and put on performances.

The new movie screen measures about 30 feet wide and 12 feet tall. It replaces one from 1998, when the student run Northern Nights Theater began showing movies with a startup 35,000 dollar state grant. The old screen had to be lifted and dropped by hand and will get a new life not far away in the community gym.
Compass Theater is the organization that oversees the movie business. Board member Dave Berg rolls and unrolls the non-profit's new mechanical movie screen. "So it's a nice function to have it be safe and not have to be pulling on some ropes to get it up and down, it was pretty heavy," he said, during a recent visit to the auditorium.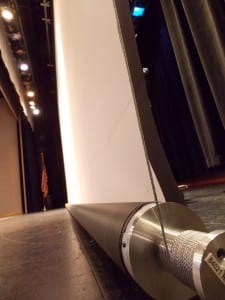 Berg explained the new movie surface came about because the switch to digital movies several years ago has been such a success. "Essentially going to digital not only increased the quality of the movies we were showing but decreased dramatically the amount of freight we were having to spend to get the movies in and out of Petersburg because they're big heavy boxes, there's a lot of celluloid involved," Berg said. "And now we get our movies on hard disk shipped in a box, almost a Priority Mail, medium flat rate box pretty much. So that has allowed us to make some improvements together with the school."
The screen cost about nine thousand dollars, paid for with a 3,000 dollar grant from the Petersburg Community Foundation, along with similar contributions from both the school district and Compass Theater. It was installed by school staff earlier this fall.
Backstage, Berg demonstrated another big upgrade. It won't be something that audiences see but it's an important safety upgrade for people putting on performances. 30-year-old hemp rope has been replaced for the rigging that controls the backdrops, sets, lighting, the movie screen and the curtain. 17 different lines connect the heavy stage equipment with counterweights and are held in place by break levers. "And certainly they were old," Berg said. "Hemp rope was installed in 1985 when the auditorium was first put in. There were times up here when I walked away after a show with splinters in my hands from the hemp rope being very difficult to handle unless you had gloves on. Plus it was starting to fray in a couple of places, not dangerously, but it was pointed out that it was time to take a look at it."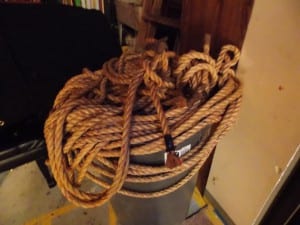 The acting company Mitkof Mummers and the dance school Mitkof Dance Troupe paid to fly in a rigging technician from Seattle to inspect the system and show how to re-rig the lines. Volunteers from those groups helped install almost 1800 feet of new cotton poly rope.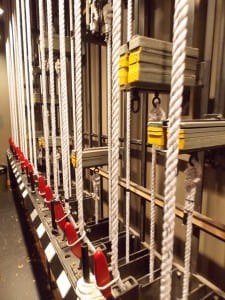 "Sometimes the curtain is open the whole time so it's not needed but for any dance performance and most of the mummers performances they're using those lines," said
Dance Troupe board president Carin Christensen. "And when the technician was here we asked him what the normal life span of some of those lines are and he said about 20 years. So when we said ours were close to 30 and he looked up he grimaced and we knew it was time. And he said for safety factors it was definitely time to replace."
The two groups expect to spend about 2500 dollars for the rigging technician and the school district purchased about 2000 dollars worth of replacement rope.
"Yeah we're really happy that this got done before the Mummers' performance last weekend and before the Nutcracker that's coming up in December,"Christensen said.
The upgrades aren't done either. The upholstery on seats in the auditorium is getting replaced and in the process will be changing colors, from purple to blue. So far one seat is done. School staff and volunteers will be changing out a few at a time, working their way through the 320 seats as they can. Compass Theater contributed about 10-thousand dollars for that replacement.