The U.S. Forest Service is holding meetings this week in several communities on Prince of Wales Island to gather input on possible timber sales, tree thinning, stream restoration and recreation projects. A group of island residents is also gathering to learn what work could be happening on federal lands managed by the Forest Service and make recommendations to the federal agency.


The Forest Service is planning to publish an environmental review of possible projects that could happen on National Forest land on Prince of Wales in the next 10-15 years. The agency is seeking input from residents and others who visit the island.
"What cabins do you like, what experiences do you want and where do you want us to put our limited recreation resources?" said Matt Anderson, district ranger on the Craig and Thorne Bay ranger districts. "What type of timber sales, where, volume, types of contracts, which streams do you think need restoration, where should we be looking at for wildlife thinning? All those types of questions are what we're asking folks and we're gonna compile what everybody has to say and try to craft a range of alternatives."
With those range of alternatives, the agency will analyze impacts and publish the results in an environmental impact statement possibly by 2018.
At roughly 140 miles long and 30 miles wide, the island is the third largest in the U.S. Most of the land is part of the Tongass National Forest and a road system spans much of it.

Anderson explained they're trying to juggle the interests of the people who use and make a living off the land. "You know there's a lot of communities on Prince of Wales," he said. "It's a vast landscape, lot of different interests but overall community resiliency, forest and watershed health, recreation and tourism are key to all the folks living here and folks who come and visit Prince of Wales. And so I think there's an interest in trying to integrate projects, hopefully have an economic impact as well as a healthy forest impact."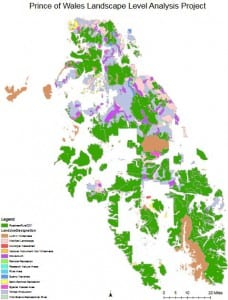 Besides input from the general public, the agency is also taking recommendations from the Prince of Wales Landscape Assessment Team, an advisory committee of made up of representatives from the island's communities, tribes and organizations. Craig City manager Jon Bolling is chair of that group, which planned to gather for a fair in Craig in mid-December. "The purpose of it is to disseminate information on Forest Service activities on the Prince of Wales Island area, ranging from timber operations to recreational projects to restoration work, silviculture practices, all sorts of activities that the Forest Service staff is involved with on National Forest lands here," Bolling said of the fair. The group planned to showcase information on the island's deer, salmon, timber, plants, cabins and trails. A story corner was also planned to record personal stories of residents and their connection to the land.
The landscape team hopes to come up with a proposal to the forest service about how residents would like to see lands managed on the island.
The Forest Service held other input gathering sessions this month in Thorne Bay and Naukiti. The agency will also be taking public comment in Craig Thursday December 15 from 4:30-6 p.m. Public comment is open through December 30th.
The information fair in Craig is Thursday, December 15 from 10 a.m. to 6 p.m. at the Craig Tribal Association hall and it's open to the public.