A Petersburg resident is hoping to restart the discussion on whether to continue adding fluoride to the local water supply. Petersburg is one of only two communities in Southeast Alaska that still fluoridates.
Local resident Holly Winje drinks borough water and uses a filter but she's hoping to end the addition of fluoride in the water supply. "It's something I've thought about for a long time," Winje said. "I didn't I guess take the initiative until having my daughter and I'm realizing all the things in our daily lives in our drinking water to the food that we're eating and medications that we take how much we're ingesting on a daily level. And it started to worry me about her. She's so small."
Winje said the more research she did the more she wanted to have it be a personal choice for people. She also thinks things have changed since fluoridation started here.
"I think the beauty of that now is that fluoride toothpaste and mouthwash is available to everyone," Winje said. "It wasn't the case a long time ago, 40 years ago. It was a very expensive and hard to find product and now it's in just about every mouthwash and toothpaste that you can buy. It's easy to grab a hold of. We can make that choice and use it if we want to."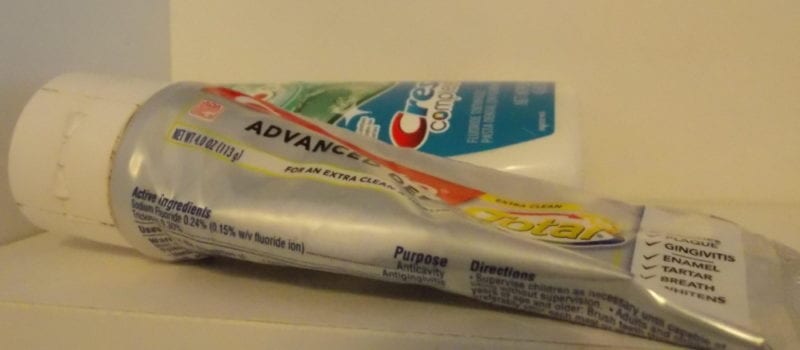 Winje wrote to the borough assembly this winter asking for an end to fluoridation. The assembly had a brief discussion on the topic at a meeting in February.
Public works director Karl Hagerman calculated that the borough spends about a $1.40 per person every year for fluoride and he thought it saves people a lot of money in dental bills. "From my personal experience I think that the fluoridation of our water supply has made a big impact," Hagerman said. "I grew up on non-fluoridated water. I've got a lot of fillings in my mouth. My kids grew up on fluoridated water. They don't have any."
Assembly member Jeigh Stanton Gregor said he'd be doing some research into the issue and questioned Hagerman about use elsewhere. "Karl just to be devil's advocate with you then, why are Petersburg and Sitka the only communities in Southeast at this point using fluoride if it's such a great thing for the community?"Stanton Gregor asked.
"I really don't have an answer for that," Hagerman responded. "I don't understand it. The trend across the nation is an increase in fluoridation. The trend in the state of Alaska is a decrease. And I'm not really sure why that is."
Juneau stopped fluoridating more than a decade ago and KTOO reports that dentists in the Capital City think cavities have increased since. Sitka's the only other place in Southeast that fluoridates. Anchorage does as well, along with a scattering of smaller communities around the state.
The Alaska Dispatch News reported that Anchorage residents there were trying to collect signatures to force a vote on the issue this year. Last year the assembly there voted not to put the issue on the ballot.
Just under half of the population in Alaska on a community water supply have fluoridated water, ranking Alaska 43rd among the 50 states.
Voters here approved adding fluoride to the water in 1986 and voted to keep it in the water in 1998. The margin that year was nearly 200 votes.
The federal government's Centers for Disease Control and American Dental Association both support water fluoridation at the community level. In fact the CDC named it one of 10 great public health achievements of the last century. The CDC says in 2014, over 211 million people in the U.S. lived on water systems with fluoride.
Even with fluoride in the water, the office of Petersburg dentist Jay Lister is a busy place. Lister thinks fluoridation is very beneficial. He acknowledges it doesn't prevent all tooth decay but it reduces the risk, and he compares Petersburg to other places he's worked. "Yeah I use to travel to a lot of the remote villages up north and a lot of them didn't and they had really bad cavity rate in some of those areas," Lister said. "And I've been in some areas, it really varies from kid to kid and person to person, some areas are a lot higher than others. But it does seem to have an effect." Lister thinks fluoridation covers some in the community that may not have daily access to the toothpaste or mouthwash.
Petersburg's assembly took no action on the issue this winter. Winje is hoping the borough assembly will make the decision to remove fluoride. If not, she may try to gather signatures to get the issue on the ballot.