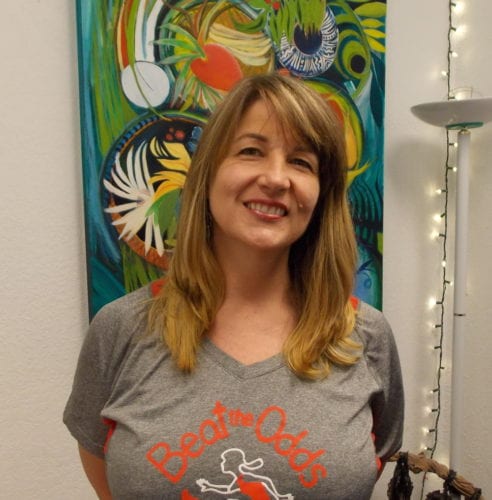 A Petersburg woman is making regular trips to Seattle this year for ongoing treatment following a diagnosis last fall of skin cancer. She's receiving regular doses of a new drug that stimulates the immune system. She found out about her cancer because of a pair of boots.
Adrienne Bunten is a 47-year-old mother of two and a professional who works for the Petersburg School District in the finance department. Until last fall, she had no idea she had cancer but she was being proactive with her health and getting regular exams. Those included check-ups for skin cancer, which runs in her family. Those exams did not prompt any concern from her doctors.
"I was being a responsible adult and getting some health concerns addressed," Bunten said. "So I did lots of physicals, testing, blood work and all that and was very fortunate all good results, everything was positive, I was healthy."
That was last September. Those good results were at the top of her mind when she volunteered at Petersburg's Beat the Odds run and walk in early October. The event raises money for cancer care, training, equipment and support.
"It's become an important tradition with my daughter and I to participate in the event," Bunten said. "And I remember watching the runners and the walkers going by and really taking a moment of gratitude that I was healthy and had just gotten the green light from my physicians and that my loved ones and family, everybody was healthy."
Soon after that race in October, Bunten received news of a different sort and that's where the boots come into the story.
"I went to a training before the start of the school year in Anchorage and got myself a pair of cute boots," she explained. "And they're different then my usual as they only go about halfway up the calf. So they fell conveniently right in line where this mole is that I have had forever. And I asked Dr. (Courtney) Hess, it's just bothering me now can we just get it removed? So in retrospect I tell people yes, my cute boots saved my life."
Bunten learned in October that mole she had removed the month before was skin cancer, specifically a stage 3B malignant melanoma. She needed surgery in Seattle to remove the mole from her leg, leaving her on crutches for a time. The cancer had spread to her lymph nodes and another surgery was required to remove those.
Since then scans have shown her free of cancer but because her illness had advanced so far she's had to continue her treatment at the Seattle Cancer Care Alliance. That involves multiple doses of a drug that goes by the commercial name Yervoy. It's thought to stimulate the immune system to fight cancer cells that have metastasized, or spread in the body. Bunten said her cancer was advanced just enough that she did qualify to receive the drug.
"It is new to the extent that they're just now using it as more of a proactive effort," she said. "Originally the treatment that I have was isolated just to people with stage 4."
She's thankful that she is able to take a proactive approach instead of being forced to wait and see if the cancer shows up again in her body. But the specialists that she needs to see and the drug treatment aren't available in Petersburg and she has to return to Seattle on a regular basis. It's every three weeks for the first three months. After that, every three months for the next three years. The drug is administered by intravenous infusion, lasting about 90 minutes each time. It also can have serious side effects.
Bunten is back at home and back at work now. She's thankful for the support she and her family receive in the community but it's also hard for her to be living so far away from the health care she needs.
"Living in Petersburg here with my family during this difficult time in our lives it's a double-edged sword because if I were still living in Seattle where we're from doing all these follow up appointments, the doctor's appointments, the physical therapists, the surgeon, the dermatologist and even the new drug treatment would all be easily accessible," she explained. "It would be right there and available. Because we are unique living here in Petersburg all of these simple medical tasks become monumental."
Bunten calls it a full time job to manage her treatment.
"It's taken a team," she said. "My partner, some very dear close friends and family have played a big role in helping to just manage the insurance, the bills the travel logistics, managing scheduling appointments, multiple rebookings of travel flights because there's so much unknown involved and besides getting the generosity of what Beat the Odds does, knowing that there were people close right here that I could turn who are knowledgeable about this journey."
Even with good health insurance, Bunten said her treatment has taken a financial toll on her family. Like others in the community facing big health care bills she has an online fund raising account. She has turned to the local resources available to cancer patients in the community and also connected with others who have been diagnosed.
She's not so inclined to preach to others about staying out of the sun. Instead the lesson she takes from this life changing event is to not be afraid to be a persistent and difficult patient. "If you're not feeling well, keep going at it," she said. "Keep asking until you are feeling or until you get answers or until you've eliminated every possible scenario of what it might not be. And be patient to your medical staff as well because they are doing what they think is best but at the end of the day don't hesitate to be your best advocate and be loud and be difficult. It can save your life and it often does." She also encourages people to be vigilant about signs of possible skin cancer on themselves and others.
As for the boots that saved her life, Bunten has not yet worn them because of lingering effects of surgeries she had. She said she's going to save those boots and thinks it will be a big day when she eventually puts them on.
(Editor's note: The reporter in this story, Joe Viechnicki is a member of Petersburg's Beat the Odds committee, which fund raises and disburses money for cancer travel, treatment and care.)