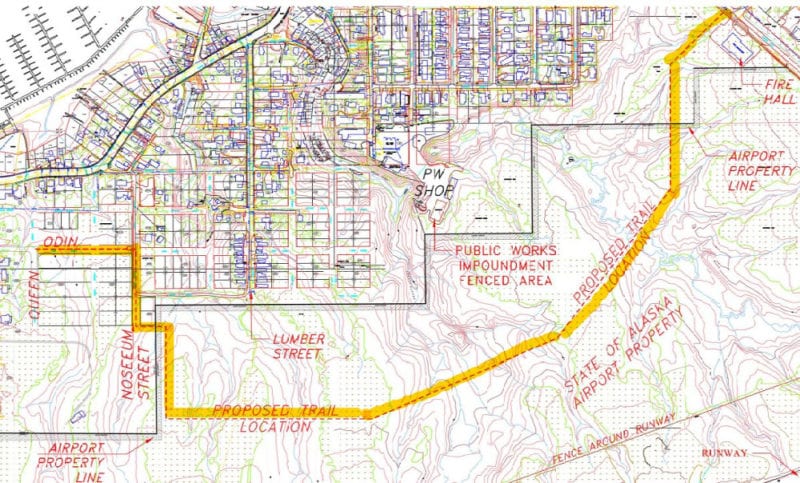 Petersburg's borough assembly Monday approved a proposed trail route from the Severson's subdivision to Haugen Drive. The trail would be built by the Petersburg Indian Association with federal money but has run into some opposition from neighbors.
The trail would connect the residential neighborhood with a shopping center, post office and bike path up to the airport. One end of the proposed route is at the corner of Queen and Odin Streets and the other end is on Haugen Drive near the fire hall.
"It's a great addition to our community," said local resident Rick Braun. "It promotes exercise which is good for everyone's health and it's paid for by the PIA or the federal government and they're gonna maintain it. I see a lot of benefits to whole community."
The trail is part of the Petersburg Indian Association's transportation plan for the community and would be built using federal funding for transportation projects.
"The Severson's to post office trail has been on our list for a while," said PIA engineer Susan Harai. "The hitch now is since we moved the alignment from borough property to airport property we have to go to the state of Alaska and ask them for an easement."
Harai sought assembly approval of the route as a first step. Earlier proposals for the trail have run into opposition from neighboring property owners. The latest proposal also has opposition.
"We are a separate neighborhood and I don't see why we should be involved," said Noseum Street home owner Thomas Cumps. "The the trailhead would actually end up right on the corner of my lot there and change things." Cumps asked the assembly to consider a route that did not go by his land.
The proposed route would link Severson's subdivision to Noseum Street along an undeveloped block of Odin Street.
Petersburg's planning and zoning commission recommended the route last month but asked for parking space at both ends.
The assembly had little discussion on the proposed walking path. The PIA's Harai explained the approval from the state was not a given and the borough could also nix the project at a later date.
"Even if we got the easement you could turn around and say we don't want it," Harai said.
"OK so there is another potential if there's enough outcry from people to say don't build a trail," asked mayor Mark Jensen.
"Correct," Harai responded.
The assembly voted 5-0 to send a letter of support in favor of the new trail route.