Marja Smets greets customers at the checkout stand at the local farmer's market. It's May 1 and it's the first market of the season. Nearby tables are covered in the season's earliest harvest: baby greens, pea shoots, arugula, beet thinnings, spinach, baby kale, and radishes.

Farragut farm is located on the mainland near Petersburg. Smets and her partner, Bo Varsano, take a four hour boat ride to deliver their produce to town. The farm has been developing over the years, expanding in size and what kinds of veggies are available. Smets and Varsano have created a self-pay station at the market this year. And they are trying something else new, a program to give away some of their harvest to local families.
Marja Smets says the program is called Healthy Food = Healthy Families. And she tells me it's something that's been on their minds for the past few years.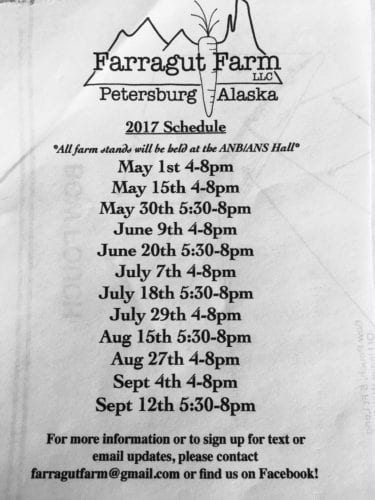 The next round of Farragut Farm veggies will be available in Petersburg May 15 at the ANB/ANS Hall.

Farragut Farm in Petersburg is starting up a program to give locally grown produce to local families in need. KFSK's Angela Denning reports: