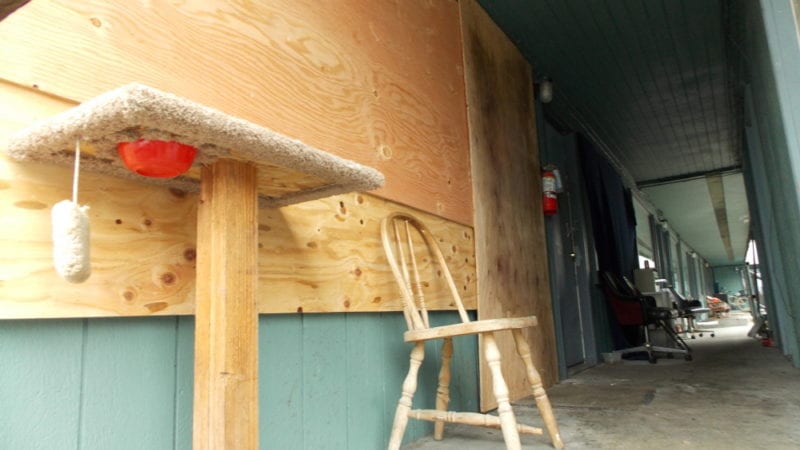 Petersburg Police pulled one person from a smoking apartment at the Narrows Inn in Petersburg late Friday night and the man was medevaced to Seattle suffering from burns and smoke inhalation.
Petersburg Volunteer Fire Department spokesman Dave Berg said the police received the report of a fire at the apartments, across from the ferry terminal in Petersburg, around 11:45 Friday evening.
"The Petersburg Volunteer responded along with police and an ambulance and when we got there we found that a resident of the building had extinguished the fire in one of the apartments with a fire extinguisher that was at the building," Berg explained. "The building had, one of the apartments in it, had been pretty much engulfed in flame and there was one resident that was found in the unit and the police were instrumental in both finding him and getting him out of the building. He had collapsed from smoke inhalation and they found him on the floor. They did a great job of rescuing this individual and pulled him to safety while the contents of the room still smoldered. The EMTs arrived on scene and quickly packaged the patient for transport up to the Petersburg Medical Center. He was met there by a trauma team and then later medevaced to Seattle."
The fire department did not release the name of the victim, who lived at the apartments. He was in serious condition at Harborview Medical Center in Seattle.
"Our thoughts go out to the family of the individual and pray for his speedy recovery," Berg said. "We also are very appreciative of the Petersburg Police Department who were really the first responders in this and saved the victim from further problems because of the smoke inhalation by their quick action in extricating him from the burning building."
No word yet on the cause. The fire is under investigation by state and local fire marshals.
Petersburg police chief Kelly Swihart said three officers were involved in the rescue, Derek Thorsen , Kalin Rosse and Carl Tate. Rosse and Tate entered the apartment and pulled the victim out. Those two officers were also evaluated at the Petersburg hospital and released.