There were no lines but there were customers for the first legal sales of marijuana this week in Petersburg. Shortly after noon Tuesday, people started trickling in to the new business called "The 420" off a side alley on main street.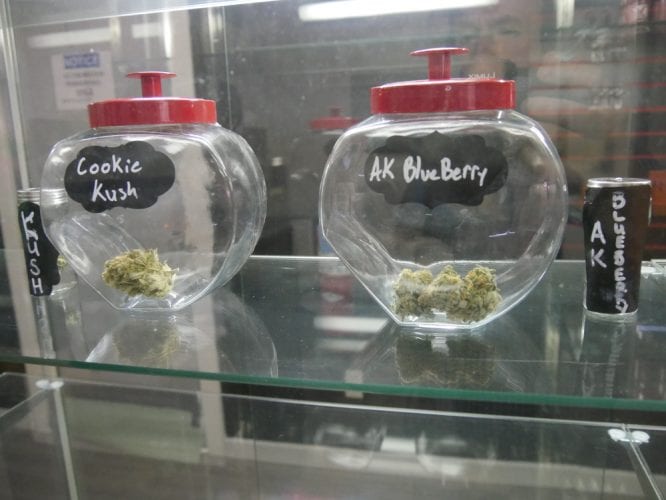 Petersburg's first licensed marijuana retail store passed its state inspection July 6th and planned for their first sales a week later. That was pushed back a couple days while store owner Susan Burrell made sure she had what she needed to start selling pot. She has a couple samples of the pot in a display case, but the product, sold in grams and eighth ounces are sealed up in packages.
"We're not doing deli style but that's just so people can see it a good sized bud 'cause it's all in these packages here, where you can't see it, it's required by the state," Burrell explained.
A few minutes before opening Burrell and two employees Fillmore Evenson and Blake Zeringue prepared for the first sales. She said she didn't expect a crowd.
"No, because nobody knows. Like I said last week we had at least a day in advance notice that I thought I was gonna get people but today it's all a surprise because I did my investigation work found out, I was pretty sure when I went to bed last night that I was right, and I called METRC this morning and we don't need those tags. And now I've got all these tags coming."
She's talking about a tracking system the state requires for plants. Package marijuana has labels that is tracked in that system. Burrell starting off with just one kind of pot, from a Chitina grow business called Flying High Investments, and three pounds of product to start. Employee Zeringue thought that would sell quickly.
"Yeah very fast, we'll get rid of at least the three pounds in three days, in my opinion," Zeringue. He said they're working to get more marijuana after this first batch. The store is on a side alley in the same building with Burrell's restaurant and gift shop on main street. It's now decked out with security cameras and display cases, with vaping products, pipes, bongs and pot themed t-shirts.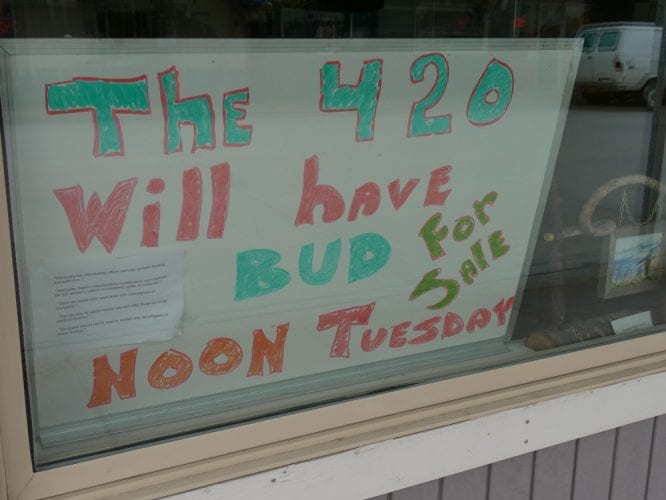 Shortly after noon the first customers show up. Only people 21 years old and up can be inside and staff check everyone's ID as they come in. They're selling eighths of an ounce and grams, limiting customers in the first days to two eighths, so the store doesn't run out too quickly. Eighths are $75 plus tax, grams are $27.
The first sale of the day went to someone who didn't want to be interviewed. Sandra Lyons was the second sale of the day.
"This is really neat, this is exciting. Got Pot? I've got a T-shirt that says 'I pot AK.'" Lyons said. "It came from Anchorage. Anchorage has been open. I checked out Fire Weed and Alaskan Bud. Now I'm checking out Petersburg's. So I believe they have a couple samples for us to try today. We'll find out."
Another customer Pam Speck shows up soon after. "You know it's a little bit expensive but why not give it a shot?" she said. "It's, people are working, it's taxes, and it's legal so there you go."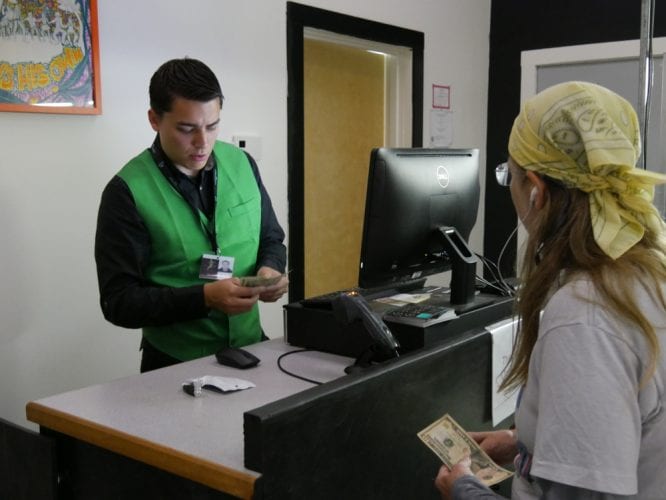 The 420 is the second licensed marijuana business in the Petersburg borough and its owner is also pursuing a grow license from the state. A separate grow operation about 10 miles south of downtown is also operating.