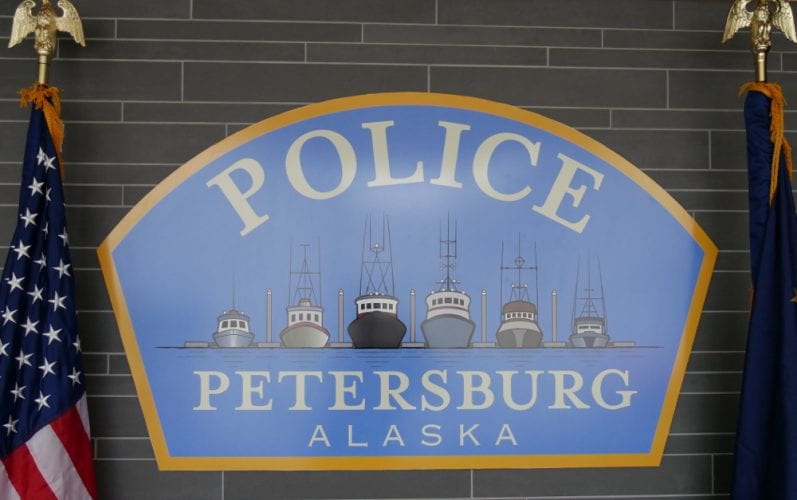 Two men suing the Petersburg borough, a local police officer, a regional narcotics task force and state law enforcement are trying to broaden the lawsuit into a class action that would allow more plaintiffs to become involved. The suit challenges the secrecy of search warrants for law enforcement investigations that do not result in criminal charges. If it ends up going to trial, the case won't go before a jury until next year.
The plaintiffs in the case are former Petersburg resident Danny Thompson, who has moved to Washington state and a current resident Greg Richeson. The two men say in separate investigations in 2013 Petersburg police officers obtained search warrants and seized property from their homes.
The plaintiffs say the police seized coins, guns, computers, electronics, cameras, cell phones, personal papers, jewelry and other private property and did not return the items for years. Thompson says his belongings have been returned; about four years later, Richeson still waiting for the return of his possessions. Attorney Fred Triem argued in late July that the suit should be a class action.
"There's hundreds of people throughout the state of Alaska who are in the same position as the two plaintiffs here," Triem said. "They've been served with warrants. Their stuff has been taken away and they cannot get the warrant file or access to it because the only way they can get access is if the police filed a criminal case as a result of the warrant based on information they obtained when they served the warrant, then but only then the defendant can go in and see his warrant file. Otherwise it remains sealed."
Attorneys for the state and Petersburg borough say Richeson's items have not been returned because he is the target of an ongoing investigation by the Petersburg Police Department. Triem disputes that he is. As for Thompson, charges were forwarded to the Juneau district attorney's office in 2015 but dismissed by the office and his property was returned.
Alaska law requires police to obtain a search warrant from a judge or magistrate judge and spells out the reasons for issuing a warrant. Police are required to give the owner of property seized a copy of the warrant, a copy of the supporting affidavit for obtaining the warrant and a receipt for the property taken. Police are also required to make an inventory of property seized.
Search warrants become part of the public record once a criminal case is filed in court. However, according to the state's court rules, search warrants, affidavits, receipts and inventories are kept sealed, and not part of the public record for four years if no criminal case is filed. Someone who has had property seized can request an inventory of those items but that unsealing request needs approval by a judge.
The plaintiffs are seeking disclosure of court files in all search warrants and argue that Alaska's court rules are a violation of the state's constitution.
The defendants in the suit are the Petersburg borough, local police officer Kalin Rosse and the Southeast Alaska Cities Against Drugs or SEACAD. That's a cooperative drug enforcement effort involving the Alaska State Troopers and police departments around Southeast. Also named in the suit are former Sitka police chief Sheldon Schmitt and Chris Russell of the Alaska State Troopers for their administrative role with SEACAD.
Superior court judge William Carey earlier this year denied a motion by Triem to add new plaintiffs to suit as well as adding other regional narcotics task forces from around Alaska as defendants. Carey did agree to add the Statewide Drug Enforcement Unit and Alaska Department of Public Safety as defendants.
Assistant attorney general Marianna Carpeneti, representing those state agencies and trooper Russell, argued that the case should not be a class action. "As for Mr. Thompson he has admitted that all of his property has been returned to him," Carpeneti said. "So it's totally unclear and the plaintiffs have not explained how a person who had all their property returned to them is an adequate representative of a group of people whose main complaint is their property hasn't been returned to them."
The plaintiffs have also entered in the court record numbers of search warrants known to be filed at the Petersburg court between 2012 and 2015, with the number of those not referenced in a criminal case. The data was compiled by former deputy magistrate Cris Morrison who's now working as a paralegal for Triem. She found that the court authorized between 42-64 warrants a year and in those years around half to three quarters or more of the warrants were not referenced in a criminal charge. Carpeneti argued those numbers weren't proof of the need for a class action.
"What has been brought forward by the plaintiffs is an affidavit which relates to search warrants and whether the search warrants were later referenced in criminal cases," Carpeneti said. "But that evidence doesn't show a pattern of law enforcement whether at the municipal or state level engaging in a practice of taking people's property and not returning it."
Timothy Bowman, representing the Petersburg borough and police officer Rosse, argued that Triem has not shown a common group of people with the same complaint.
"We don't know whether or not this is the kind of stuff that the subject of warrants would even want to have returned," Bowman said.
"Isn't it fair to assume people want their stuff back?" judge Carey asked.
"Well I think Ms Carpeneti made a great point," Bowman responded. "I mean why does somebody wanna have a DNA sample returned? The information that's provided by the plaintiffs, there's no indication. We don't know if those are hundreds of such cases. I mean probably not. The burden is on the plaintiff to demonstrate a class. They just simply haven't done that."
Cases have to meet certain legal standards to earn class action status. Such a finding would allow plaintiffs beyond Thompson and Richeson to become part of the case, with the case argued on behalf of a larger group of people who have a common complaint.
The defendants argue the practice of seizing evidence is a critical to law enforcement investigations everywhere. Those attorneys are asking the judge to rule in the defendants' favor before the case goes to trial. Carey said he expected to rule on that motion relative soon.
A jury trial had been scheduled for this August but has been rescheduled for February 20th of 2018. Attorneys expected a trial would take about a week.