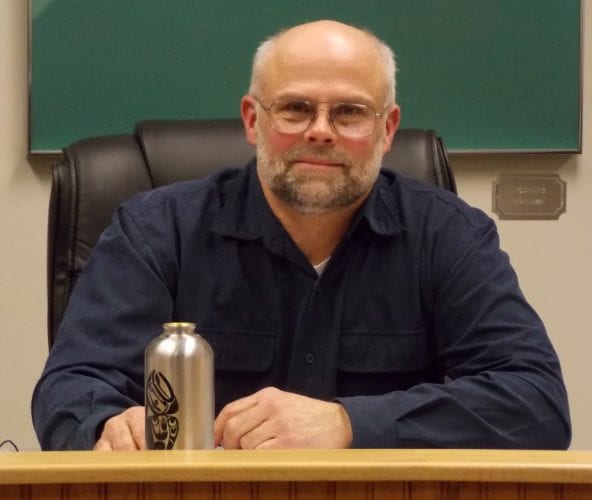 Voters in Petersburg have elected Mark Jensen as mayor and decided to keep fluoride in the water.
Jensen was the mayor before resigning in May. Cindi Lagoudakis, who took over after Jensen resigned, also ran to keep her seat.
In unofficial results in Petersburg's borough election Tuesday, Jensen has 631 votes, while Lagoudakis has 496.
One incumbent was elected to the borough assembly. Jeff Meucci was the top vote getter in a six person race for two seats. He has 528 votes.
Brandi Marohl looks to be winning the other assembly seat with 507 votes. It doesn't look like incumbent Bob Lynn will keep his seat, coming in third with 458 votes.
Will Ware was fourth with 317 votes. Richard Burke had 151 votes and Ken Hamilton had 104 votes.
The numbers are in for write-in candidates and it looks like the race is decided for a school board seat. Janine Gibbons has received 211 votes and Meredith Evens has received 180. That means Gibbons will be on the school board along with incumbent Sarah Holmgrain. She was re-elected with 925 votes. Gibbons takes over the seat that was held by Brandi Marohl who has been elected to the borough assembly.
As for ballot questions, voters decided to keep adding fluoride to Petersburg's water, with 692 no votes on that question, against 430 in favor of ending that practice.
And ATVs will not be allowed on the streets of Petersburg. 664 voters said no to that question against 462 in favor.
Voters also supported a charter change for the Kupreanof dock. That one passed easily, 916 in favor and 188 against.
It looks like an increase in the sales tax cap is narrowly going down to defeat, 582 against and 543 in favor.
The second sales tax question is passing 618 in favor against 454 against. That will limit a sales tax exemption for non residents buying goods and services for use outside of Petersburg.
Design work funding for a small vessel haul out yard in Scow Bay has been approved, 676 in favor and 431 against.
And a property tax exemption for buildings with sprinkler systems will continue. That passed 604 in favor and 436 against.
There were a total of one thousand one hundred and 59 ballots counted today. That includes early absentee voting. And that's a turnout of just over 43 percent.
There are still nine questioned ballots and six special needs ballots still to be counted, along with any absentee that come in by mail by Friday. That could change a few of the close results.
Other write in candidates were not in contested races. Tor Benson and Sally Dwyer will win seats on the planning commission along with incumbent Chris Fry. Scott Newman and Don Spigelmyre will be on the harbor board along with incumbent Mike Bangs who was re-elected. Jerod Cook and Tim Koeneman will be on the hospital board along with George Doyle, also elected to a seat. Cynthia McDonell, Marilyn Menish-Meucci and Lizzie Thompson were on the ballot and will be on the library advisory board and Stan Hjort was elected to the public safety advisory board.
(Editor's note: this story has been updated with information on write in candidates and a contested school board seat.)