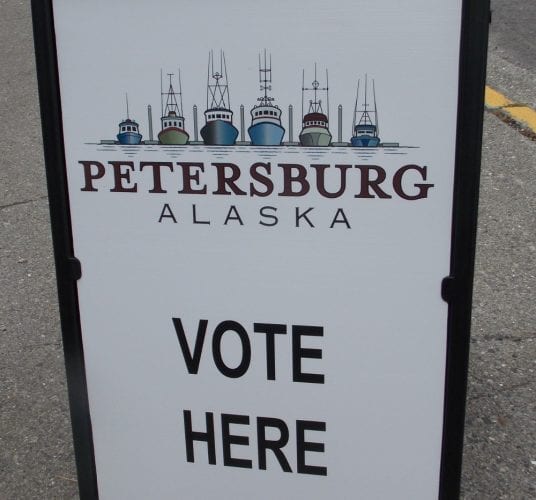 Voter turnout was high this week as Petersburg residents decided the mayor's race, two assembly seats and seven ballot questions.
Turnout was over 43 percent this year, just topping the 42 percent turnout in last's year's election that included a prohibition vote on marijuana. Just two years ago the turnout was near record lows at under 16 percent.
Mark Jensen will return to the mayor's seat, taking 56 percent of the vote on Tuesday. The welder and commercial fisherman resigned that post in May but was convinced to run in the election. Jensen agrees he and the assembly have some tough decisions coming up with a tight borough budget.
"We'll see what happens with Secure Rural Schools funding and revenue sharing from the state," Jensen said. "The special starting in Juneau on the 23rd I believe it is, is going to be interesting. The governor's going to be proposing some new taxes. I haven't really looked into that in depth. But yeah, there's definitely going to be some adjustments we're gonna have to make and who knows if that's gonna be in services or how we're gonna respond with the money we have."
Jensen beat Cindi Lagoudakis, who's retired from the U.S. Forest Service. She was vice mayor at the time and took over for Jensen as mayor. She was glad for the strong turnout Tuesday.
"I was very thankful for the folks who came out and supported me and I think there's a lot of work ahead for the new assembly," Lagoudakis said. "It's gonna be a challenge. We have some fiscal challenges statewide that we're gonna have to react to and it's going to be very important for the assembly to listen to the public and to be creative and to come together and to work by consensus. They definitely have their work cut out for them."
Lagoudakis may be only the third woman to be mayor in Petersburg.
One incumbent was elected to the borough assembly after being appointed to fill a vacancy there this year. Alaska Department of Fish and Game research diver and former mayor Jeff Meucci was the top vote getter in a six-person race for two seats and was glad to see so much interest in the seats.
"It gave the community a chance to find somebody that they liked and who would maybe look at the budget stuff that's going on in town," Meucci said. "I'm just happy that we had a bunch of good people that ran for the assembly and the mayor's seat. It's a good thing when you have competition and I think, I'm happy with the way things turned out."
Meucci was also happy voters supported funding for a small vessel haul out yard in Scow Bay, one of the seven questions on the ballot.
Petersburg Fisheries electrician Brandi Marohl, who was on the school board this past year, is in second in that assembly race and looks to be winning the other assembly seat. She's outpacing incumbent and retired Forest Service employee Bob Lynn who won't keep his seat, coming in third.
"I'm very thankful for all the community support and the voter turnout was fantastic," Marohl said. "You know it's very overwhelming and I was honestly quite thrilled and relieved. I was definitely nervous. It's not a very comfortable feeling to be voted on."
Both Marohl and Jensen supported an unsuccessful effort to recall of most of the assembly earlier this year. That was over concerns with a discussion about management of the Power and Light department held by the assembly behind closed doors. Marohl thinks a message from the election is that the public wants borough business done out in the open.
"By the voting direction I think that it seems that the voters are ready for a change in direction in both the assembly, management," she said.
For his part, Lynn thanked people who voted for him and wished the assembly success.
As for ballot questions, voters decided to keep adding fluoride to Petersburg's water, with 61 percent in favor, against 39 percent wanting to stop adding fluoride. Borough resident Dana Thynes campaigned to end fluoride and says she's disappointed in the result.
"It just shows me that most people are happy to let someone else do their heavy thinking for them and not wanting to research on their own because obviously we did not persuade quite a few people or else they never heard what we had to say," Thynes said.
Before the election fluoride opponents said they'd bring the issue back next year if they weren't successful this year. Voters here have now backed fluoride use three times in just over four decades and the margin of victory for fluoride has grown since the last vote in 1998.
ATVs will not be allowed on the streets of Petersburg. Nearly 59 percent against that measure, with 41 percent in favor. The supporter of that initiative Richard Burke says he's disappointed in the result but happy that it did so well. Since he didn't win a seat on the assembly, he's hoping for an appointment back on the planning commission.
Voters also supported a charter change for the Kupreanof dock, approved one sales tax exemption change while voting down an increase in the sales tax cap. Support was also there for design work funding on a small vessel haul out and boat yard.
The numbers are in for write-in candidates and the race is decided for a school board seat. Janine Gibbons has received 211 votes and Meredith Evens has received 180. That means Gibbons will be on the school board along with incumbent Sarah Holmgrain. She was re-elected with 925 votes. Gibbons takes over the seat that was held by Brandi Marohl who has been elected to the borough assembly.
Other write in candidates were not in contested races. Tor Benson and Sally Dwyer will win seats on the planning commission along with incumbent Chris Fry.
Scott Newman and Don Spigelmyre will be on the harbor board along with incumbent Mike Bangs who was re-elected.
Jerod Cook and Tim Koeneman will be on the hospital board along with George Doyle, also elected to a seat.
Cynthia McDonell, Marilyn Menish-Meucci and Lizzie Thompson were on the ballot and will be on the library advisory board and Stan Hjort was elected to the public safety advisory board.
(This story has been corrected: Cindi Lagoudakis may be the third woman to be mayor in Petersburg, not the second. The others we have found are Bea Stokke in 1966-67 and Arleen Pence in 1989.)