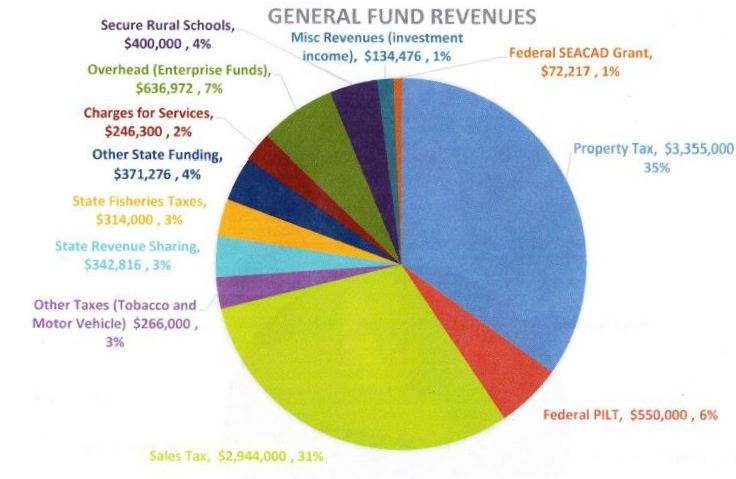 Petersburg's lobbyist in the nation's capital is not optimistic about a continuation of federal payments that help fund schools and road projects in rural parts of the country, including Alaska.
Brad Gilman represents the Petersburg borough in Washington D.C. and updated the borough assembly by phone Monday on issues at the federal level. He didn't have good news about an extension of what's called the Secure Rural Schools and Community Self Determination Act of 2000.
"Our Alaska delegation members have signed on to bills in the House and Senate to support a two-year extension but I don't see any momentum," Gilman told the assembly. "I think this program is in serious jeopardy of not being extended and disappearing."
Secure Rural Schools payments go to counties around the country with National Forest land. It's a program that replaced payments that used to come from timber sales and other business activity on National Forests.
In some years, Petersburg has seen over a million dollars from the program with the bulk of it going to the local school district. The borough has held onto some of the money, to prepare for the end of the program. The last payment came in the fiscal year that ended in June of 2016. If the program is not renewed, the borough will spend down its savings from past payments and be forced either to cut spending or find new revenue to fill the gap.
The borough plans to start up a series of community meetings to plan for the future and gather suggestions on spending and revenue. The assembly Monday approved a timeline proposed by borough manager Steve Giesbrecht. The first meetings will be held sometime in January with additional hearings in March or April. Assembly members liked the idea and encouraged public participation.
Here's Jeigh Stanton Gregor and Brandi Marohl.
"I just wanted to recognize Steve and your staff for putting the effort into this and encourage all members of the public to participate, give feedback, help is the short answer. So thank you guys for your efforts," said Jeigh Stanton Gregor.
"Yeah I wanted to basically say the same thing as Jay," said Brandi Marohl. "I think this is a great idea. It gives the community a chance to speak their mind."
Borough manager Giesbrecht proposed the series of informal open houses to gather ideas on new revenue or ways to save money. He explained that the borough is more limited in the tax-supported general fund. However, Giesbrecht encouraged input for both the general fund and the enterprise funds, using the electrical utility as an example.
"It's a cost of living thing," Giesbrecht explained. "We can fix a budget problem in Power and Light by raising the rates. It takes three votes of the assembly and away you go but then it's suddenly more expensive for everybody who lives here. So when we start talking about ways to save money I am not limiting it to just general fund, although clearly that's where we have the biggest challenge. I do look at enterprise funds and we try to make sure that's as big an issue in some ways because it does come right out of people's pocketbooks."
The borough released a pie chart of the general fund expenses and revenues.