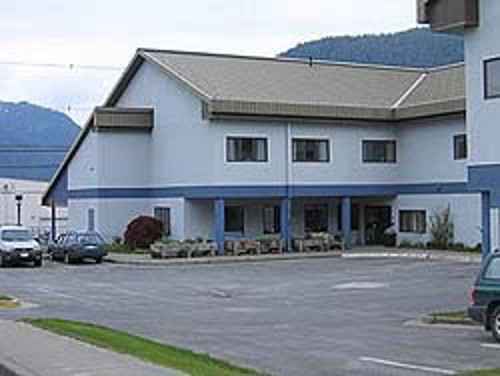 Petersburg's hospital board Thursday agreed to pay for a study on financing a new or remodeled building. They also heard a presentation by a representative with a regional health care provider which is expanding its services and partnerships in Southeast.
The board considered spending 24,000 dollars for the consulting firm BDO to study the feasibility of remodeling the hospital or building a new one.
"What you end up with is a presentation that shows based on the hospital's current and projected future operations and revenue how much facility could be financed based on strictly the hospital's operating revenue," explained the medical center's chief financial officer Doran Hammett.
A hospital committee has recommended pursuing construction of a new building to replace Petersburg's aging hospital, built in 1955. It's expected a new facility could cost upwards of 40 million dollars. This study will look at what the hospital can afford. Hammett, who works in the same role at Wrangell's hospital, said that community commissioned a similar study and found they could finance a facility costing up to 52 million dollars.
He called this a first tier of the investigation and said a second step would cost 75,000 to 100,000 dollars to look at issuing bonds for construction. Hammett said this first step would provide a dollar amount but would not make the determination about whether to pursue a new building or a remodel.
"There's a lot of questions about what could we possibly afford and how much it would cost for a structure, what can we afford, what could be paid for and what would need to be borrowed." " said board member George Doyle.
Construction of a new or renovated hospital could be paid by revenue bonds, issued by the borough and paid back with money made at the hospital. Those would need voter approval before the borough could borrow that money.
Board member Marlene Cushing supported going forward with the study. "I think until we get a ballpark figure of what it's possible to pay for we really have no basis to start looking at alternatives," Cushing said. "And if we find out that a new facility or a drastically updated and remodeled facility is totally beyond our means then we've gotta start looking at plan B."
The vote was 6-0 to pay for the feasibility study.
Meanwhile, officials in Wrangell are looking into the possibility of an organization like the Southeast Alaska Regional Health Consortium purchasing or managing the hospital there. It's an option that also could be considered in Petersburg and was recommended by a consultant as a possibility earlier this year.
SEARHC's executive senior vice president Dan Neumeister gave an overview of that organization to the board. "SEARHC has changed quite a bit over the last five years particularly as we have recently merged with Alaska Island Community Services in Wrangell and also in some pretty preliminary but fairly serious conversations with Wrangell Medical Center as to how we can affiliate and collaborate more," Neumeister said. "I thought it would just be a great opportunity to come share with you what we're doing, answer any questions you might have."
Neumeister briefly outlined SEARHC's plan for a new medical campus to be constructed in Sitka with a brand new critical access hospital, medical office building and nursing home. A bill to transfer land for SEARHC's expansion in Sitka passed the Senate this month and moves onto the House for consideration. Neumeister though the new facilities could be built in the next three years.
Petersburg's hospital board also created a hiring committee to replace outgoing CEO Liz Woodyard. She's retiring at the end of next June. The clinic will also be looking to recruit a physician as Dr. Kris Sargent has announced his plans to leave March 1st.
Current chief of staff Dr. Courtney Hess told the board it's been a very busy fall. "In case you didn't hear we've had a lot of flu," Hess said. "It's still spreading rapidly and quickly and so we're trying to do what we can with community announcements and things to quell that as much as we can. But it's very contagious. Thankfully not a super intense strain in that we've had lots of 90 year olds survive. It's not caused anybody to have to go on a ventilator or to get medevaced so thank goodness. So that's been very busy in the hospital as well as the clinic. Our clinic volumes have been a little bit overwhelming as well."
In other business, the board approved a bylaw change to allow board members to take part in meetings while not in town, by phone or internet.