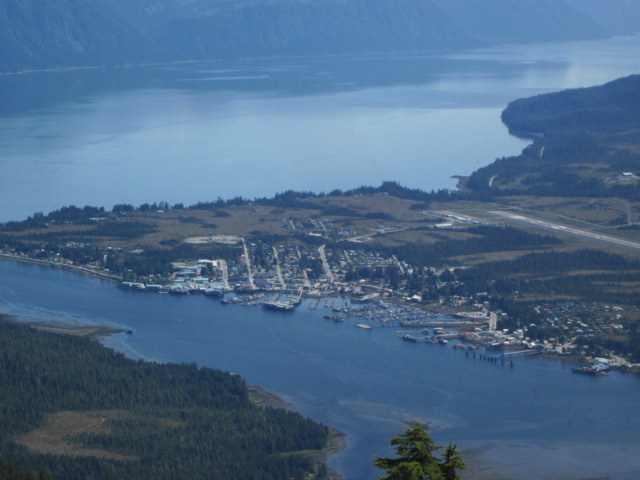 Petersburg is starting up a public review of new proposed language on land use, zoning and developing property. The new development code could help streamline some approvals for building construction and increase housing options in the borough along with other changes.
The proposed new development code will replace sections of municipal law covering zoning and subdivisions. Community development director Liz Cabrera told the assembly this month about reasons for revising local law on land use and construction.
"Primarily it was to improve and streamline the processes in our code," Cabrera said. "They're out of date, they're cumbersome. They take a very long time for people to get very simple approvals. This new code changes those things. We also wanna increase the allowable uses that people can do with their property without really having a negative impact."
Hundreds of pages long, the new proposed code covers allowable land uses in different parts of service area one, the old city of Petersburg. It also lays out standards for parking, building design and utility connections along with enforcement of the law and the process for changing what's allowed where. The starting point for this was the state of Oregon's model development code for small cities.
Minor variances for changes to building setbacks or other requirements could go through a quicker review process if there's no opposition from neighbors. That would be instead of the current review by the planning commission that can take multiple months depending on scheduling.
The new code would also implement some of the goals of the borough's new comprehensive plan. For instance, Cabrera explained that one change is allowing a second unattached home or living space like a tiny home on residential property.
"It's something that we get asked about a lot and haven't been able to say yes but it opens up options for people to have parents stay with them or kids but they still have their own place, or income from their property," Cabrera explained. "So I think it will create some new moderate priced housing in our community."
The proposed code would allow for manufactured and modular homes in all residential property. It would also expand Petersburg's historic district to include Hammer Slough and Sing Lee Alley. And it defines characteristics of buildings in Petersburg's downtown and would require new structures be built to similar standards.
"While we may not recognize it right off the bat, our downtown is incredibly valuable in the sense that it's very compact, it's walkable, it has a lot of people coming through it," Cabrera told the assembly. "It has open store fronts, it has people living down there. All of these things are what a lot of communities down south are really striving for and having a really hard time getting to."
The proposed code would also create three different categories of industrial land with different standards. That would mean a mix of uses allowed on light industrial land and a focus on the marine economy with land designated as waterfront industrial.
Mayor Mark Jensen asked about the possibility of a zoning change for a property owner who approached him about it. "He has an industrial lot he's been paying taxes on and has developed it but now he's going to be restricted possibly if he ends up in light industrial zone as to what he can do there, thinks it's gonna diminish the value of his land if he can't sell it to someone that wants to put a rock crusher in or something."
Cabrera responded that there would be some give and take with zoning changes and the proposal could change through the process. "You know that's kindof what we heard through the comprehensive plan process was that there's a lot of concern about a lack of industrial land so we're trying to carve out some so that we do have some of that available for this range of industrial uses," she said. "At the same time we have a lot of issues in the planning commission where you have residential uses and industrial uses up against each other and so we're trying to address that without having too much of impact on either one, like too much of a negative impact."
The planning commission is expected to consider an updated zoning map for service area one after its review of the code.
The proposed code would also extend platting authority but not zoning throughout the entire borough. Platting includes requirements for subdivisions of land, things like minimum lot size and layout. That something that's currently done by the state government in the greater borough outside the old city limits. The borough would take over that authority and Cabrera says it plans to charge less than the state for the service.
Once the planning commission hears public comments this winter on the proposed code language it will go to a review by the borough assembly during three readings of an ordinance later this year.
The planning commission is holding public hearings on the proposed code three times in the next three months in the borough assembly chambers. The first is Tuesday, January 9 at noon. Other hearings will be February 6 and March 6 at noon.