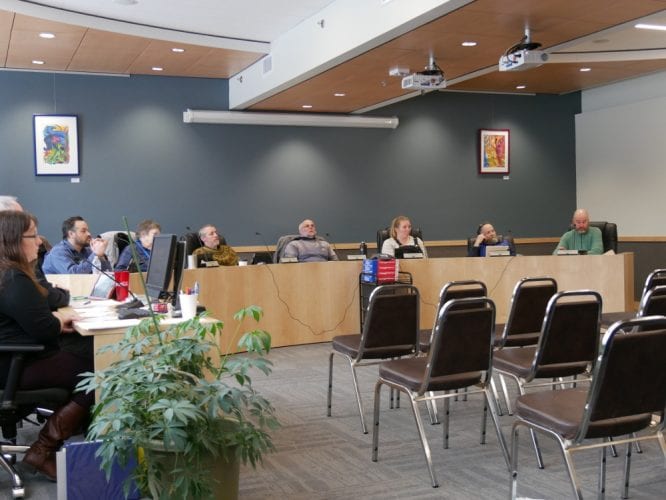 Petersburg's borough assembly with a series of 4-3 votes in February advanced a reorganization of borough departments. The move would be instead of hiring a new electrical superintendent and it continues to generate opposition from those currently and formerly in the industry. The assembly on Monday. March 5th will be voting in third and final reading on a series of ordinances that will leave oversight of the local electric utility to a supervisor also in charge of the water and sewer departments.
The restructuring was proposed last spring by borough manager Steve Giesbrecht as a way to save money following the retirement of Petersburg Municipal Power and Light superintendent Joe Nelson last June. Nelson has since come out in opposition to the plan to forego recruiting his replacement, as have currently employees of the local electric utility.
Robert Larson, former Thomas Bay Power Authority commissioner and former board member of the Southeast Alaska Power Agency, urged the assembly no to continue with the reorganization. Like others, he highlighted the importance of employing an electrical superintendent.
"There's a huge, an unlimited source of daily decisions that are made by the electrical superintendent that provide for the safe, effective distribution of electricity in this town," Larson said.
Instead of hiring a new electric superintendent, the borough would create a new utility director's position and have that person oversee the electric department, along with the water and sewer utilities. It would also mean the public works director would become responsible for roads, the motor pool and sanitation. When the manager proposed the idea, he said he intended to promote public works director Karl Hagerman to the utility director's job, promote assistant public works director Chris Cotta to be the public works director and eliminate the assistant's job.
Former mayor and city councilor Dave Carlson was also CEO of the Four Dam Pool Power Agency and the Southeast Alaska Power Agency. He wrote a letter in opposition to the change, writing, "If you don't have a superintendent who thoroughly understands the complexity and nuances of power generation, transmission and distribution along with the inherent risks wrapped up with the entire system, you are asking for trouble."
The assembly initially agreed to start recruiting a new electric superintendent and advertised for the job last fall, bringing in just a handful of applicants. Since then, a majority has agreed to give the restructuring a try and by a narrow margin they're sticking to that plan.
"More or less this is the borough manager's idea, I think it's a good idea and in this role I don't wanna be micro-managing who he hires and does not hire so I'll be voting for this string of ordinances," said Jeigh Stanton Gregor.
The assembly this winter is considering a slate of six ordinances which will make the restructuring official, creating the new utility director position, eliminating the electric superintendent job and outlining who's in charge of what.
Electrician and assembly member Brandi Marohl pointed to all the opposition to the change. "I mean there's been I don't know how many people in this field, professionals, speak out against this and we're going to listen, value just what the manager wants as opposed to what the community wants and all the professionals in the trade," Marohl said. "I don't quite understand that."
And mayor Mark Jensen continued his opposition to the restructuring. "We had testimony from eight people tonight on this particular ordinance and none of 'em were in favor of it," Jensen said. "They all in my opinion have a lot of experience in this electrical field. One of 'em in particular was a mayor and council member here, helped build this whole infrastructure that we're enjoying now. I'm worried if we don't have the right expertise in place, driving this boat, we're gonna end up at some point down the road in trouble. So I will not vote for any of these restructuring ordinances."
All six ordinances passed in their second reading by a 4-3 vote with Jensen, Marohl and Kurt Wohlhuter voting no. That's no change from the first votes in February. They're up for their third and final reading at the assembly's meeting March 5th.