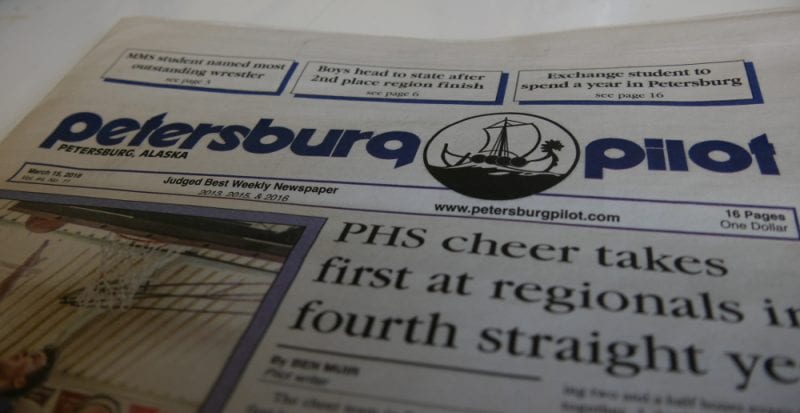 The price for weekly newspapers in Petersburg and Wrangell is going up this week, with the April 5th edition.
The newsstand price for the Pilot and Sentinel goes from a dollar to a dollar 50. Subscriptions increase from $47 a year to $52. Advertisements in the papers and signs at the news stand have alerted customers to the upcoming change.
The papers are owned and published by Anne and Ron Loesch.
"I was down at (Seattle-Tacoma) airport and I bought a Seattle Times and a Wall Street Journal and the tab came to over five dollars," explained Ron Loesch. "I questioned the clerk and it turns out the Wall Street Journal had a newsstand price of four dollars and I thought that's pretty incredible. So that kinda started the wheels turning that maybe the Pilot was due a rate increase and then I was surprised that it had been 20 years since we last raised the rates. It's kind of a function of newspaper that some of our revenue comes from advertising, some comes from circulation."
Loesch said the company needs more revenue from the circulation side. He thinks the papers are better quality than they were 20 years ago and are still a good value. Loesch said the Pilot last raised its price in 1995 and he thinks the Sentinel last had an increase in 2000. The company's costs for printing the papers are also increasing because of the Trump administration's tariffs.
"His tariffs on newsprint, our newsprint comes from Canada," Loesch said. "So our newsprint has gone up over 130 dollars a ton and also we use aluminum printing plates and it's yet to be seen but we'll probably be taking a impact on our printing plates which are made out of aluminum. So Donald Trump even affects our little newspaper here in Petersburg."
The Pilot has been published since 1974 and the Sentinel since 1902. Circulation is around 900 in Wrangell and 1500 in Petersburg.
In the interest of full disclosure, the reporter on this story, Joe Viechnicki, worked for the Petersburg Pilot from 1996-1999.