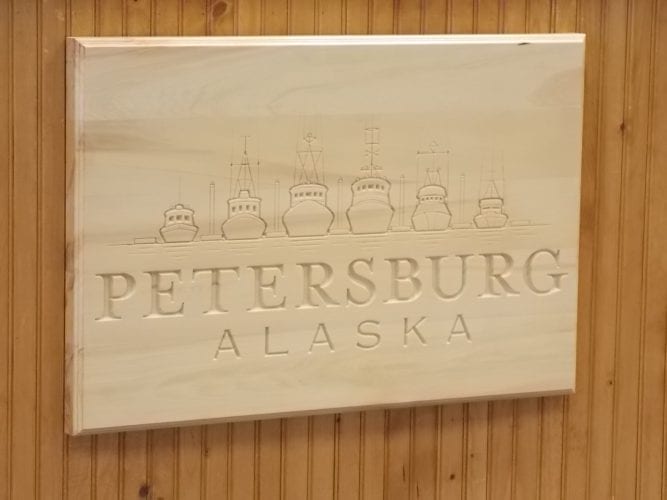 A proposed budget for the Petersburg borough Monday failed to pass in its first reading before a short-handed Petersburg assembly. It'll be back up for consideration in a special meeting on Monday. A big unknown for the spending plan is the cost of paying borough employees over the next few years.
The spending plan covers the fiscal year that starts in July. Spending in the general fund would be over 9.4 million dollars, down just slightly from the current year.
Assembly member Brandi Marohl offered an amendment to cut a proposed 2000 dollar bonus for the heads of borough department. That change received no second and didn't make it to a vote.
Assembly member Jeigh Stanton Gregor spoke up for the proposed budget. "By and large I think this is a pretty conservative budget with a lot of forethought on fiscal responsibility so I appreciate that from the finance department," Stanton Gregor said. "I'll be voting yes here today to move it along to the public hearing and I strongly encourage any members of the public who have problems with the budget or like to see things amended to please come forward at our next meeting and let us know or to please reach out in email or call. We need that feedback."
The borough is budgeting for increases in both sales and property tax revenue but less money from various state sources. The municipality is expecting 35-thousand dollars a year in excise tax from licensed marijuana growing and import. That money goes into a property development fund, used for buying land or fixing up buildings. The municipality is also budgeting for rate increases in several enterprise funds, including a nine percent hike for harbor users. An ordinance approving that increase has yet to be tackled by the assembly.
Capital projects include evaluation of the borough's hydro-electric plant at Blind Slough and some sewer system work. The local contribution to the schools would remain at $1.8 million.
Employee wages for next year are a big unknown. Now both bargaining units of borough employees have voted against tentative agreements for a new contract. The International Brotherhood of Electrical Workers represents employees at Petersburg Municipal Power and Light. They voted against ratifying a new three year contract with one percent wage increases in the first two years of the pact and a two percent raise in the third year. IBEW representatives did not return calls seeking comment on the vote.
That follows a vote against a tentative agreement by the Petersburg Municipal Employees Association in April. That bargaining unit covers most other borough employees and rejected a tentative agreement with a retroactive two percent wage increase in the first year, no increase in the second year and the option for negotiating another hike in the third year. There were also targeted wage increases proposed for police officers, resident assistants at Mountain View Manor and facility specialists in the Parks and Recreation Department.
One borough employee wanted the assembly to know that some workers voted for that agreement. Jessica King spoke on behalf of some employees at Mountain View Manor. "It's a great job," King said. "It's fun. It's rewarding. It's strenuous and tiresome but it's great and I'd like to thank you guys for that."
The borough's final offer is not as favorable to employees as the tentative agreement. It would mean a one percent increase retroactive in the first year, one percent in the second year and no increase in the third year. It also decreases health coverage for part time employees and establishes three mandatory furlough days.
The assembly was scheduled to vote on a final offer for the PMEA employees but didn't have the votes. Marohl asked to sit out the vote since her husband is one of the impacted employees. That left only the mayor and two assembly members, not enough to approve the final offer. That will come up again at a future meeting if more assembly members are present.
The votes also weren't there to pass the budget in first reading either. Marohl voted no, and with only three votes it fails. The assembly scheduled a special meeting for Monday, May 14 at 6 p.m. and will take up the budget again, the labor contracts, along with community ideas on spending cuts or new revenue.