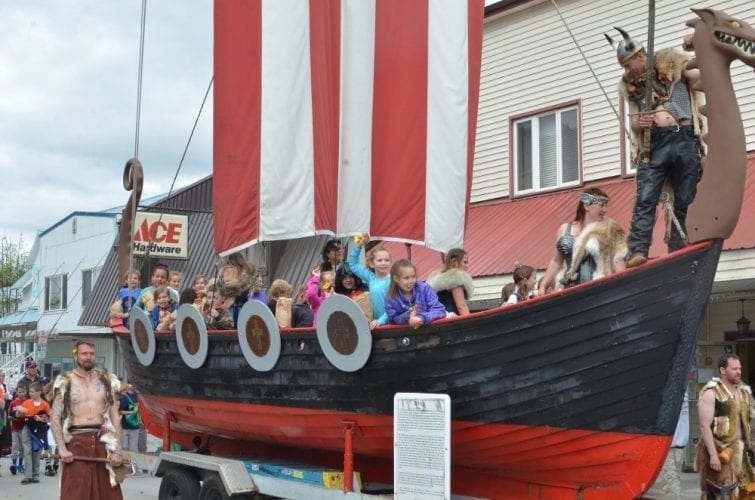 Petersburg's 60th Little Norway Festival runs Saturday, May 12 through Sunday, May 20th with a mixture of old and new events. The celebration honors the May 17, 1814 signing of the Norwegian Constitution, the many Norwegian pioneers who settled in Petersburg a century ago as well as Armed Forces Day. Visitors and locals don Norwegian sweaters and traditional Norwegian costumes. Bands of fur-clad Vikings and Valkyries also roam the streets making sure everyone is having a fun time.
A festival headliner this year is Ketchikan artist and musician Ray Troll. He'll be performing with his band the Ratfish Wranglers. The public library plans to unveil a storyteller's pole carved by Tommy Joseph of Sitka on Thursday, May 17. A new event is a strongman-style, sled-pulling competition.
There's also a softball tournament, a herring toss, Viking games, street booths, classes in traditional painting, a Scandinavian style show, parade and pageant and lots of food.
Downtown husflid or street booths are open Friday and Saturday, May 18-19 from 10 a.m.-5 p.m. The festival parade is at 4 p.m. Friday, May 18. The bulk of events run Thursday, May 17th through Sunday May 20th.