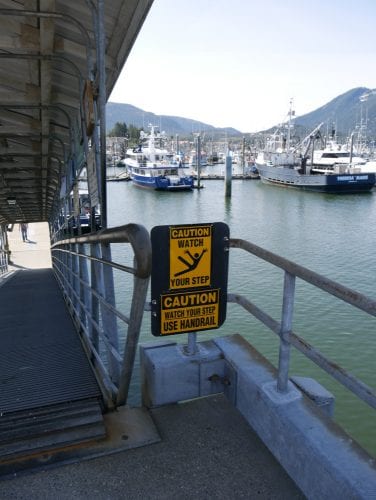 Harbor rates are going up in Petersburg next month and voters are one step closer to deciding on an end to the senior sales tax exemption again this fall. Petersburg's borough assembly Monday, June 18 passed the harbor fee hike and advanced a ballot question on creating a needs-based tax rebate for seniors instead of the current exemption.
The third and final reading of the harbor rate increase passed unanimously without any discussion and no comments from the public. That increase takes effect in July. It will mean a nine percent increase for boats mooring in Petersburg's harbors and an across the board hike of about 12 percent for most other fees charged in the harbors.
The change to the senior sales tax exemption did generate some discussion. It would end the exemption from the borough's six percent sales tax for local residents 65 and over. That would be replaced with an annual rebate that qualifying seniors could apply for.
The ordinance is modeled after a rebate program created in Sitka this year. Several local residents have proposed the change.
"When we heard about Sitka's solution we thought maybe that would work here," Susan Flint explained. "It seems like a fair, respectful solution to the problem. Refunds will go to those on state, federal or tribal assistance, the needs basis we've been looking for without a bunch of receipt keeping or tax return proofs."
Supporters of the change originally proposed a rebate of $400 per senior or $500 per couple. The latest version would pay an annual rebate of $300 for an individual or $450 for a couple. But Flint suggested the assembly could change those amounts if it wanted.
The proposal is meant to bring in more revenue to the borough to help pay for services. It's back up for discussion because of Petersburg's growing proportion of the populace over retirement age and a squeeze on the borough's other sources of money. Another supporter of the change, Brian Lynch expected a loss of fish tax from the state.
"Given relatively poor projected salmon returns and an already severely restricted salmon season coupled with China's looming tariffs on Alaska's seafood, it is more than highly like Petersburg will see severely reduced raw fish tax revenues over the next how many years," Lynch said. "We simply cannot continue to allow this loss of revenue and expect to continue to provide services that we all expect."
Unlike in Sitka, a change to Petersburg's sales tax exemption requires a vote of the people and attempts to sunset the tax break or make big changes have been voted down handily. Seniors continue to highlight their need for the exemption, especially with the high cost of living and their difficulties paying bills on a fixed income.
Another local resident Cindy Lynn explained the rebate would not cover the sales tax she would end up paying, for utilities and other monthly bills.
"I am asking the council to look at that seriously please and not just look at the food bill as far as six percent of the food because we spend a lot more than that, to consider possibly increasing that rebate amount, for an individual," Lynn said. "Let's say 50 bucks a month times 12 is $600 a year. That's twice as much as what you're saying."
The assembly discussed the possibility of changing the rebate amounts for the third and final reading.
"I'm all in favor of putting it on the ballot which is why I'll continue to support it but I think there's a better chance of it passing if there's lower rebates," said assembly member Nancy Strand.
The rest of the assembly agreed the issue should go on the ballot and approved it in second reading without making any changes by a 5-0 vote. Mayor Mark Jensen and assembly member Kurt Wohlhueter were not at the meeting. The rebate amount could still be changed at the third reading next month.