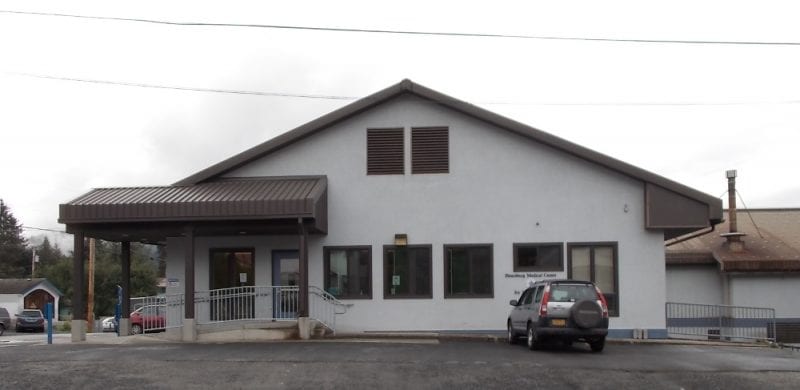 The Petersburg Medical Center board is considering a capital budget for the next year of nearly a million dollars for equipment replacement and some building improvements. The board may seek some reimbursement from the borough for repairs to the borough-owned hospital.
The board didn't approve a capital budget at its last meeting because board members had some questions about funding the requested list of new equipment and building projects. Board president Jerod Cook called a separate work session to give the board time to ask questions about the capital budget items.
"I personally don't have a whole lot of heart ache with it as it is," Cook said. "But sounded like others did."
The capital budget request submitted by staff totals 954,130 dollars, but that includes 100,000 dollars as a contingency for unforeseen needs. Other items on the list include replacing computer network infrastructure, new equipment for physical therapy, lab and imaging departments.
Board member George Doyle wondered about what money would be available to pay for the capital needs.
Chief financial officer Doran Hammett thought the current fiscal year would generate about a million dollars in cash, but that number was not yet finalized.
The hospital's new CEO Phil Hofstetter thought the requests by staff were legitimate needs for replacing older and well-used equipment. "I would say that the staff here use it to its capacity and then some," Hofstetter said. "So all the equipment absolutely seemed appropriate and valid to replace, some of it even would provide more revenue and pay for itself, like the flexible endoscope, is actually a great service and would pay for itself in the course of the year without too much trouble from what I've seen, same thing with the lab testing, radiology, portable X-ray, those kinds of things."
Three of the items are upgrades or add-ons to the building itself. Those would be replacing the doors to the emergency room, modernizing the elevator and building a new pharmacy room for holding hazardous drugs. That last one is a new requirement to protect health care workers from drugs that can have dangerous side effects. For the building work, the board may approach the borough for at least partial funding for these items in the borough-owned building.
"No I think we should budget for it but if there's a chance to get part of it paid for by the guys that own the building that would be great, said board member Tim Koeneman. The board in the past has approached borough officials about public support to pay for capital costs.
CEO Hofstetter noted construction work will still be needed on the old building even if the board decides to pursue construction of a new medical center. "If we go down the road of a new facility, even if we started building tomorrow, you know we still have to maintain the facility to code, regulation and safety going forward," he said. "So that's something that I think is certainly something to think about with budgeting and as we talk those things further."
Parts of the medical center building date back to the 1950s and the board has discussed building a new facility or renovating the existing structure, both with big price tags. Board president Cook thought it made sense to spend the money to improve care at the existing hospital building.
"So I would much rather spend the money on quality of care and things like that, now, than something that we still have no idea which direction we're going," Cook said. "And if we're going to be arguing over 900-thousand dollars and whether we can afford it then I really question whether we can afford the bigger expenditure that we're all looking at."
While last year's capital spending was comparable, budgets before that haven't been as large, mainly because the money hasn't been there. Chief financial officer Hammett pointed out that the medical center's cash flow improved around 2014 and 2015. But prior to that he noted the hospital did not have as much money for replacement and repairs.
"And in that 10-year period you only spent about an average of maybe a couple hundred thousand dollars a year," Hammett told the board. "So to a great degree I mean everybody sitting in this room knows how long you went without a lot of stuff. So to some degree you're playing a little catch up here too. And you've done that last year and to some degree the year before."
The board didn't suggest removing any of the requested items. The capital budget could be up for a vote at the board's next meeting July 26.