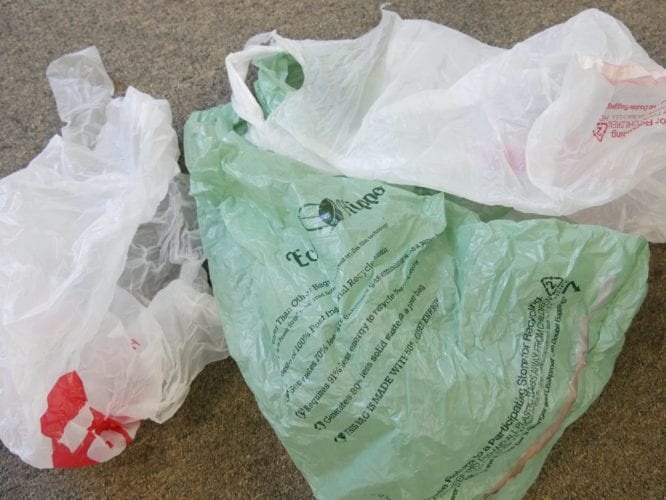 The conversation is underway on reducing the use of light-weight plastic shopping bags in Petersburg. Members of Petersburg's borough assembly Monday had mixed feelings about a local bag ban or extra charge for their use but they're hoping to hear more input from the community.
Former assembly member John Havrilek wants to see an ordinance passed here banning single use plastic shopping bags, similar to local laws passed elsewhere in Alaska and the rest of the country. He made his case against those bags Monday.
"You know there responsible people that will use the plastic bags for multiple uses, take out their garbage, pick up their dog poop, whatever but the majority have so many of these, they get into the garbage and the landfill and then into the water," Havrilek said. He's hoping businesses will instead offer reusable bags and has offered to help with the transition.
Sunny Rice, a member of the Petersburg Marine Mammal Center, noted that that organization was awarded a grant from the Petersburg Community Foundation for awareness on marine debris.
"Each month this year, starting in September and going through May, we're going to be doing awareness raising or other events, giving away some free things," Rice said. "We actually have some funds for free reusable bags and others to bring up this issue of marine debris, talk about what it means for our community and talk about possible solutions." Rice said that group is planning to do a survey on what prevents people from using heavier multi-use bags instead of light-weight plastic.
Public works director Chris Cotta told the assembly reducing bags in the garbage would help the borough's bottom line. "If the major stores in town went to reusable bags, then those plastic bags aren't going to end up in the trash and that's a good thing for the borough, because we won't be shipping that out as waste and we won't be paying for that poundage," Cotta said.
The start of Petersburg's discussion has drawn the attention of a national plastic bag producing and recycling industry lobbying group. The executive director of the American Progressive Bag Alliance wrote an August 7th letter to the Petersburg assembly arguing against a bag ban or charge for their use. The organization points to studies from Demark and Canada comparing plastic bags favorably with reusable or disposable alternatives. The lobbying group also points out that the light-weight plastic bags can be reused and recycled.
Assembly member Jeff Meucci was only interested in a discussion at this point and said he wasn't interested in a fine or bag ban. "I mean if you start using your reusable bag by going to the grocery store, every time you go, eventually the grocery stores will just say I don't need to order that many green plastic bags because nobody's using 'em," Meucci said. "But it's just, the hardest part for me and my wife with the reusable bags is making sure I remember I put them back in the car after I've gotten groceries. And I always carry one or two in my truck. But that's the hardest part is once you get groceries, getting them back in your car. I just wanted to get the discussion going. I'm not really in favor of putting an ordinance on the table at the next meeting but I just wanted to get it out there for the assembly's discussion."
Meucci also cited a letter from local resident Donna Marsh about the important multiple uses of the light-weight plastic bags. Marsh wrote that there are many other types of garbage littering Petersburg's roadsides and banning bags wasn't the answer.
Others on the assembly encouraged more public input on the topic.
Assembly member Eric Castro saw negatives and positives from a bag ban. "My local town back in California they outlawed plastic and then now they just have paper bags at the store, which works well in California with 30 percent humidity but in your car saturated and you pull your bag out and it rips the bottom out and it wouldn't work as well in this environment," Castro said. "You know on the flip side I was just listening to a report that said by 2050 there's going to be more plastic in the ocean than fish. So that's something if we have an opportunity to play our small part in the world global scale, sounds like something that is worth investigating."
The topic was only a discussion item and no assembly members proposed bringing an ordinance up for the assembly's next meeting.