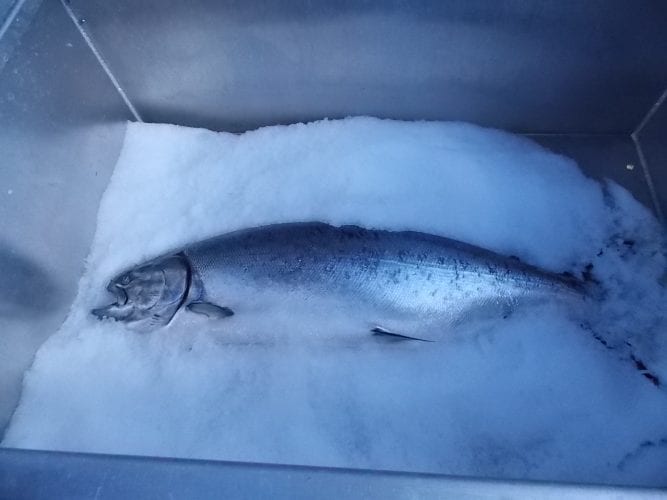 Fishing was a little better in a second summer commercial troll season for king salmon in Southeast. Trollers were allowed to target kings for five days in mid-August and landed an estimated 26,000-27,000 chinook, about four thousand fish above the target for that opening.
"So the second opener kinda unlike the first was a little bit shorter," said Grant Hagerman, the department's troll management biologist for Southeast. "In July we fished for 14 days, the fleet catching just over 4000 kings a day. This opener the fishing was a little bit better. We fished for five days from August 15-19th. Right now preliminary catch per fleet per day is about 5500. The catch per boat per day was a little bit higher around seven per boat per day in July and about 10 here in this August fishery so the fishing was a little bit better."
Those catch rates are still pretty low compared to other years, but not unexpected with low abundance of kings. Effort was down in the second opening with just over 560 permits fished. That's the lowest effort for that second summer opening since 2002. In addition Hagerman explained not all of the focus was on kings during that time.
"One of the anomalies that we did see this year in the king opening was a huge portion of the fleet, we estimated 10-15 percent of the boats that initially had started fishing kings on August 15 redirected effort towards chum salmon by the second or third day," Hagerman said. "There's a large return of enhanced chum salmon that's returning to the Crawfish Inlet terminal harvest area here on the outer coast and there were huge surpluses of these fish and build ups of these fish in Crawfish Inlet right in the middle of the king openings."
Crawfish Inlet is south of Sitka and the site of a strong return of chum salmon released by the Northern Southeast Regional Aquaculture Association, or NSRAA.
The price for kings was very high, perhaps among the highest ever for the summer season, averaging $8.50 a pound. Fishermen are getting $2.05 for coho and around a dollar a pound for troll caught chum.
Trollers are back out fishing for chum and coho with most of the fleet focusing on coho in late August.
The summer catch of silvers topped 600,000 fish by late August. Hagerman said waters on the outer coast of Southeast and some inside have seen some improvement in coho catches.
"Coho over the last week or since the king closure, catch rates on the outside, in the central outside and southern outside as well as the central inside in lower Chatham (Strait) have been improving and so they are, they're a little bit above average now but they've improved a lot over the last week and so there's definitely fish that are moving in," he said. "So I would say the majority of the fleet is probably targeting cohos and not chum at this point."
The total troll catch of cohos last year was over two million, as well as 2013 and 2014. The summer season continues for coho until September 20th but can be extended if returns are strong.