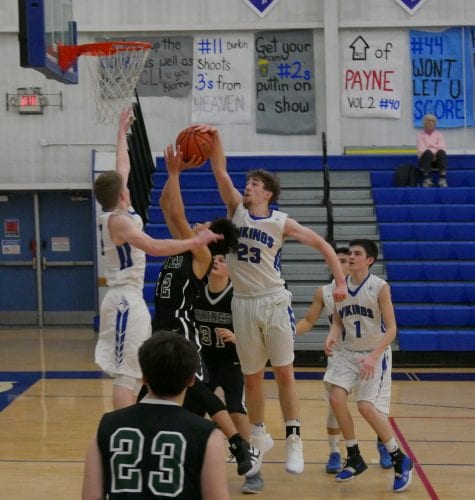 Petersburg High School's varsity basketball teams added four home wins to their records Saturday and Sunday against the Glacier Bears of Haines. And this weekend it's homecoming in Wrangell as the Vikings and Lady Vikings continue with important conference games.
The boys are above .500 for the first time this year, with a record of 6-5. That's thanks to 63-45 win over Haines Saturday and a 67-59 victory on Sunday.
The first night Brennan Skeek led scoring for Petersburg 18 points, Louden Sandhofer scored 16 and Brayden Larson added 11 points.
On Sunday, Rylan Wallace and Thomas Durkin both scored 15, Larson scored 12 and Gunnar Payne added 10 points for Petersburg. Boys coach Rick Brock likes the balance he sees from his team on offense.
"Brayden Larson was put in a little different role this weekend. He really stepped up," Brock said. "You know he got to give double figures both nights. And then Brennan, he continues to improve. On Saturday I thought his speed up and down the floor was key. And then on Sunday like I said they made some adjustments and other guys stepped up. Tough thing too was for Rylan on Sunday he put in 15 points but then I also asked him to guard one of their better players for most of the game. It's tough duty. Again I like the fact that we have different guys that will step up at different times."
Brock says Haines played tighter defense on Sandhofer and Skeek in Sunday's game. Nevertheless, the Vikings still had four players in double digits. On the defensive side of the ball, the coach wants to see more consistency and better rebounding.
"We're just not physically boxing out and then going and getting the basketball," Brock said. "We're standing and watching. Our half-court defense looks tough at times but then we're also getting lost in transition and you know we're about half-way through the season. So I like the progress that we have. Definitely have some of those key things to work on. To hold Haines to hold them to 45 points on Saturday I thought was a good accomplishment on our end. We let them get too many good looks at the basket on Sunday. We didn't have the same energy on the defensive end. And I think really the biggest thing for us right now is to just be consistent. We're still on that roller coaster. So we hope to smooth things out as time goes."
Meanwhile, the girls team, winless until the middle part of this month, tripled their victories against Haines. The Lady Vikings were 55-20 winners on Saturday and 61-25 on Sunday. Two freshmen led scoring both nights. Kaili Simbahon had 21 points on Saturday and 18 on Sunday. Ines Larson scored 19 on Saturday and 21 the next day. The Lady Vikings were able to push the ball down the court for some easy fast break points against the Glacier Bears.
"Well that's kind of the way we wanna play," said girls coach Dino Brock. "We seem to play better when we're getting up and down the court rather than just walking the ball up and trying to get into our offense. Any time we can push the basketball, that's what we're trying to do."
Like his brother, Brock said rebounding continues to be an area that needs improvement. So, is the coach seeing any progress on that front?
"Yeah, at times," he said with a laugh. "It's like anything else. It's a learned skill. So we have really moments and when we do, when we block out and rebound that gives us a chance to run. When the ball bounces all over and there are three and four girls around the basketball it's really hard to get it out so we can run. So for us it's a big thing just so that we can get the basketball out clean and run."
The girls are now 3-6 on the season. Both teams will play at homecoming games in Wrangell this weekend. And that will complete their first trip through the Southeast 2A teams. They'll play all four again in February to solidify seeding for the regional tournament.