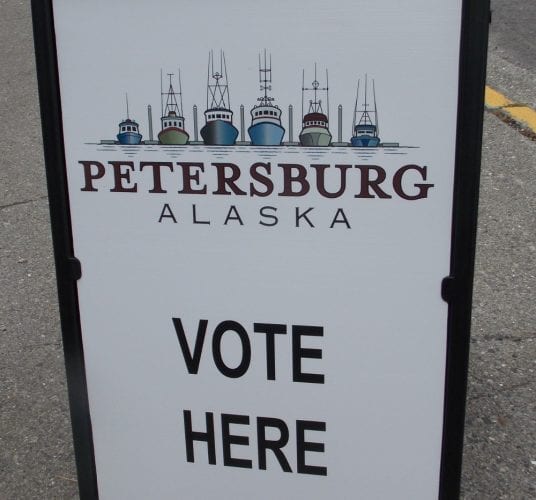 Petersburg's borough assembly Monday supported the first reading of a change to way people would be elected to the assembly in the future. The proposal would force candidates to run for one seat each election, instead of voters choosing from a pool of candidates for multiple seats. As written, the ordinance would not put this change before voters.
The ordinance would change local law for election of assembly members only, creating designated seats. A candidate would have to choose to seek just one of those seats.
Former mayor and city manager Don Koenigs and former assembly member John Hoag approached the assembly about making the change. Koenigs wants an opportunity for the public to be able to examine and challenge local elected officials in forums leading up to an election.
"There's no examination, in other words giving an opportunity for the general public to dialogue and that's been my observation recently in the last couple of years," Koenigs told the assembly.
The current system pits all candidates, including incumbents against each other, with the top vote getters winning seats. The last two years that has meant six candidates competing for two seats. Supporters of the change say it make for a clearer choice, allowing an incumbent to defend their seat against candidates specifically challenging that incumbent.
"Simply put I think it's a really good form of democracy, similar like we've discussed up here," said assembly member Jeigh Stanton Gregor. "If I was choosing to run for Senate, I would either run against Senator Sullivan or Senator Murkowski, not pick two out of three. So it's more in line with the way we do other elections."
Others were willing to advance the change in first reading but wanted the proposal to go to a public vote.
"I'm not big on changing up voting law at this level but let the people decide on something like that," said assembly member Taylor Norheim.
The assembly can make the election change without sending it to a public vote but could decide to put it on the ballot this year. No one motioned to make that change in the first reading.
Other small Alaskan towns have a similar system to Petersburg's current election process. Others like Juneau and Anchorage have districts, to ensure geographical representation.
Not all on the assembly support the change. During a radio call in show mayor Mark Jensen said he didn't see the need for a switch.
"I can foresee it turning into during campaign time more of a combative campaign and trying to pick on individuals," mayor Mark Jensen said during a radio call in show Monday. "I don't see why we need to do it."
Jensen voted against the ordinance in its first reading at Monday's meeting and was joined by Brandi Marohl and Jeff Meucci. Nevertheless it passed by a 4-3 vote. It will be up for its second reading and public hearing again on Monday, March 4.