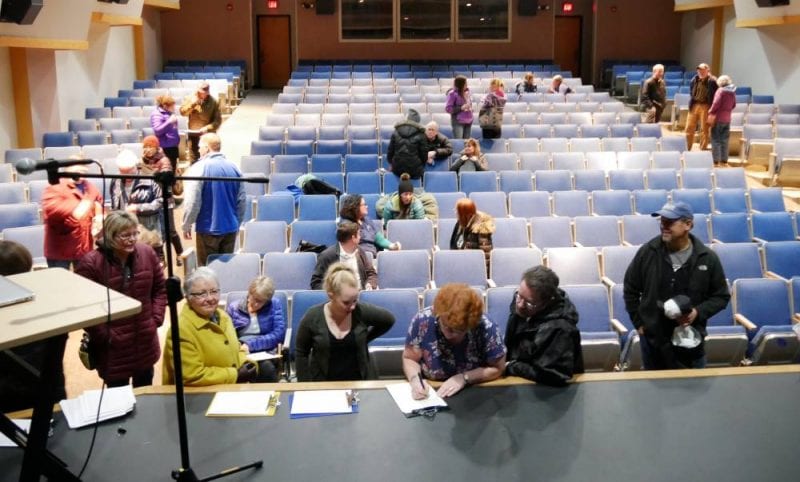 Around 50 Petersburg residents attended a community meeting Tuesday night about proposed state budget cuts to the local school district. As Angela Denning reports, participants talked about what the future of education might look like in the remote island community of 3,000 residents.
People are mingling in the auditorium discussing what they just heard from school district leaders. That the proposed $1.4 million cut would require eliminating several teachers and programs. It's something that Superintendent, Erica Kludt-Painter, told the crowd was "unacceptable" and "ridiculous."
"We are an island," she said. "We have to provide opportunities for our kids."
Bjorn and Shannon Stolpe are the parents of three young children. The oldest is in first grade. Bjorn says they came to the meeting to gather more information about how the school district would be affected.
"We're just looking to gather as much information as we can and figure out what the best solution's going to be and how we can help," he said.
Shannon agrees with Governor Mike Dunleavy that there has been overspending for years in state government but she says his budget isn't the answer.
"I think he's being pretty radical in trying to cut in such hurtful areas like education," she said.
During the meeting, presenters referred to a large screen on stage showing colorful bar graphs of how much some of the student programs and activities cost. School Board President, Mara Lutomski, pointed out where the proposed cut would land.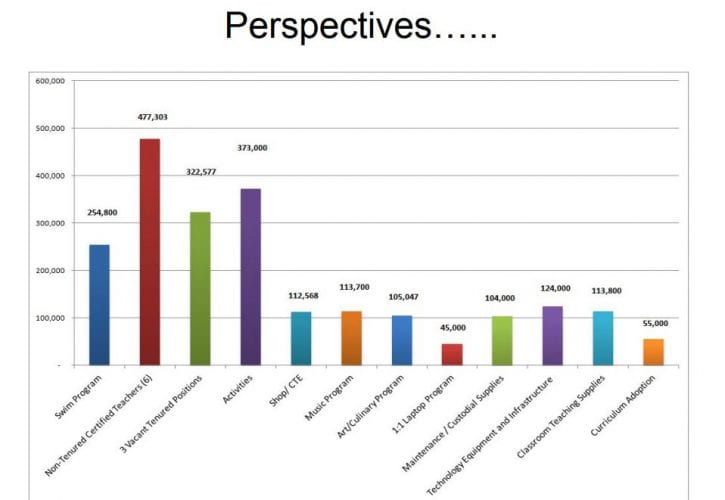 "$1.4 [million]….you can start at the left…and you have to come somewhere in here…. That's taking out almost twelve staff members along with these programs. It changes the face of what education looks like in Petersburg," Lutomski said.
The scenario would cut twelve staff positions along with schools programs such as music, art, shop, swimming and other student activities.
The Stolpe's don't think that's a good idea. Both Bjorn and Shannon graduated from Petersburg High School in the early 2000's. Shop classes, in particular, are near and dear to Bjorn's heart. He says he wasn't a regular student who was college bound. He took a Vo-Tech path and has worked for a local boat shop for the past 18 years.
"Took pretty much all the shop classes I could going through high school," he said. "Introduction to woods and then the woods class and then metals and then marine fab. And that was huge for me."
For some other residents at the meeting a quality education is one of the main reasons they decided to move to Petersburg.
Chrissy Morris is originally from the nearby village of Kake. She moved to Petersburg, in part, to get more opportunities for her son who is in preschool. She says she came to the meeting to learn more about the budget crisis.
"What the plan is, what we can do as parents, concerned citizens, to help keep the funding for the school," Morris said.
Phil Hofstetter's family also moved to Petersburg last year from Nome. He's the new CEO of the Petersburg Medical Center and says one of the draws for moving here was to have more programs and activities for his two children.
"We're very, very excited about the education system here with our kids," he said. "You know, it's unfortunate."
Jean Ellis is at the community meeting as a retired school board member of 13 years.
"This is unheard of, unprecedented, really," she said.
Ellis was also a former legislative aide in Juneau for a decade. She says she wants people to realize that this budget proposal is for real.
"Don't just think, 'Oh, it's the excess out there, they'll just cut the excess and we'll be fine," Ellis said. "Somebody said, 'We'll just cut that percentage of the administrator's salary.' Well that would get you nothing, really almost nothing. This much of a cut is tremendous."
There are a lot of unknowns about the state's operating budget as the Legislature comes up with its own version. In the meantime, the Stolpe's hope that the school district will be able to provide opportunities for their children like it did for them when they were growing up here.
"Without those programs it's just so sad that they're not going to be able to give these kids a chance at some pretty special things," Shannon said.
Nobody at the Petersburg meeting spoke in favor of the education cuts. District officials said there would need to be more community conversation as the budget process continues.