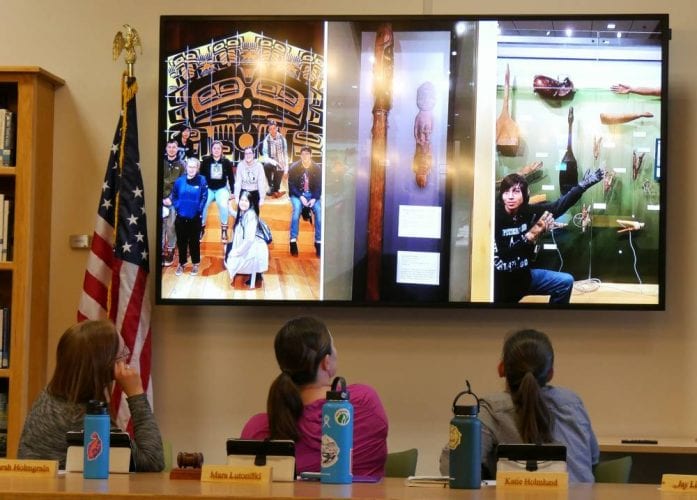 Nine Tlingit students from Petersburg traveled on a four-day trip to Juneau and Sitka last month as part of a federal grant program to learn more about their heritage. The trip was presented at the school board meeting Tuesday night. KFSK's Angela Denning reports:
Petersburg School District's Director of Activities, Jaime Cabral, and his wife Heidi chaperoned the trip and told the school board about it. They showed videos of the students learning traditional dance in Sitka.
Jaime Cabral says the students call themselves 'P.I.N.G.' for Petersburg Indigenous Native Group. It's the third year the group has gone on an educational cultural trip.
"A lot of them don't have a whole lot of background on where they came from or what their clan is or anything of that sort," Cabral said, "So throughout this whole project a lot of them found out how rich their background is, their culture, and who they're related to. And some of them didn't realize how important their last names were in Tlingit culture and history."
In Juneau, the students visited the University of Alaska Southeast, the Sealaska Heritage Institute, and the Tlingit and Haida Community Center where they celebrated Elizabeth Peratrovich Day.
In Sitka the group went to Mt. Edgecumbe's Founder's Day celebration. They learned dancing from Stephen Blanchett who leads cultural programs around the state and is also part of the Grammy Award-winning music group, Pamyua.
In Sitka, the students visited ancient totem poles at the Sitka National Historical Park. They also visited Castle hill where there are still cannons that were used by the Russians to displace the local Tlingits from their land.  
The students visited the Sheldon Jackson Museum, which holds artifacts from indigenous cultures throughout Alaska and from the Northwest Coast. They also went to the Raptor Center.
The Petersburg P.I.N.G. students include:
Avery Herman-Sakamoto
Heather Berkley
Mekell Heppe-Worthington
Jaden Perry
Matthew Espeseth
George Skeek
Keston Lyons
Kingston Buckner
Cabral says several of the students are creating family trees, learning their language, and joining the Alaska Native Brotherhood and Sisterhood's local camp.